Experts have urged Ugandans to avoid consuming Genetically Modified Foods (GMO's), but rather concentrate on eating nutritious natural and indigenous foods.
Dr Grace Nambatya, the Director Research at the National Chemotherapeutic Research Institute, told Journalists at the 11th Annual indigenous Food and Seed Fair held at Silver Springs hotel in Kampala, that some people mix fake products like plastic rice, plastic eggs in GMOs which can turn out to be harmful to the body system.
Nambatya noted that the indigenous/traditional foods are very rich in nutrition and can help boost an individual's immune system which may not be the case with GMOs.
Speaking at the same event, Stella Lutalo the Country Coordinator at Participatory Ecological Land Use Management (PELUM) Uganda noted that they are committed in preserving and promoting indigenous foods through financial support, farm clinics, and innovations.
Lutalo said that PELUM will Continue to work towards improving the livelihoods of smallholder farmers and the sustainability of rural communities through fostering ecological land use management.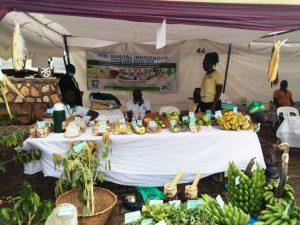 Dr. Christopher Kyeswa, the Country Board Chairperson PELUM Uganda said farmers engaged in the local indigenous foods should be supported in order to preserve the indigenous foods.
Kyeswa noted that there is need to promote and implement smart agroecology practices and principles which help address climate change and its effects.
"If we implement the agroecology practices and principles, we will over come low productions, loss of biodiversity, we need to strengthen the existing and new partnerships," he said.
The Fair was held under the theme "Building back better, strengthening community resilience to Covid-19 through Indigenous Foods and agrobiodiversity managemrnt"
It was attended by different regions that include Central, Nothern, (West Nile, Lango and Acholi), Eastern (Busoga, Bugisu and Karamoja), Western (Ankole, Kigezi and Rwenzori) showcased the different indigenous foods and seeds.