Kampala Mayor, Erias Lukwago who is one of the lawyers of Bobi Wine has said that his family and lawyers who visited him at Makindye military barracks could not help but shed tears after seeing the physical state in which the detained legislator is in.
Lukwago was part of the few people that were allowed to visit Kyadondo East MP, Robert Kyagulanyi (Bobi Wine) in Makindye on Friday. The MP was airlifted from Gulu district yesterday after he was charged with illegal possession of a fire arm by the military court martial.
"He is in a very bad shape. It is terrible, if you are a human being, you can't help but shed tears," Lukwago told reporters outside the military barracks on Friday.
"Everybody was in tears. Everybody who witnessed him was literally in tears".
During the visit, Lukwago was accompanied by lawyer Asuman Basalariwa, Bobi Wine's wife, Barbie Itungo and the Uganda Human Rights Commission (UHRC) chief, Meddy Kaggwa.
He said that the musician turned legislator tried to narrate his ordeal and how he was treated during his arrest, but "with a lot of difficulty".
According to the lawyer, Bobi Wine can not sit or support himself to do anything. He said that soldiers carry him even when he is going to ease himself.
Bobi Wine was arrested at the start of the week while in Arua district where he was campaigning for the newly elected MP for Arua municipality, Kassiano Wadri. Violence had broken out on the last day of campaigning when a procession of supporters of Wadri including Bobi Wine allegedly stoned the convoy of President Yoweri Museveni.
The President was also in Arua to campaign for the NRM candidate, Nusura Tiperu.
The UPDF said on Thursday that upon conducting a search in Bobi Wine's hotel room, they found a gun which is believed to be his.
The arrest
Lukwago said that Bobi Wine revealed to them that he was arrested from his room after he had retired to the hotel after the final campaign rally.
He was in his room when he suddenly heard people banging doors of the other rooms in the hotel.
"According to him, when he retreated to his room, he heard people knocking doors left, right and centre. He decided to stand still in his room and surrendered with his arms up. He surrendered to the attackers, to the invaders," Lukwago said.
"He knew he had no way out. He couldn't run, he could not fight back, he couldn't resist. So, like any other person under such circumstances, he yielded to the invaders".
Bobi Wine says that after entering his room, the attackers began to beat him up. He said that some were armed with iron bars.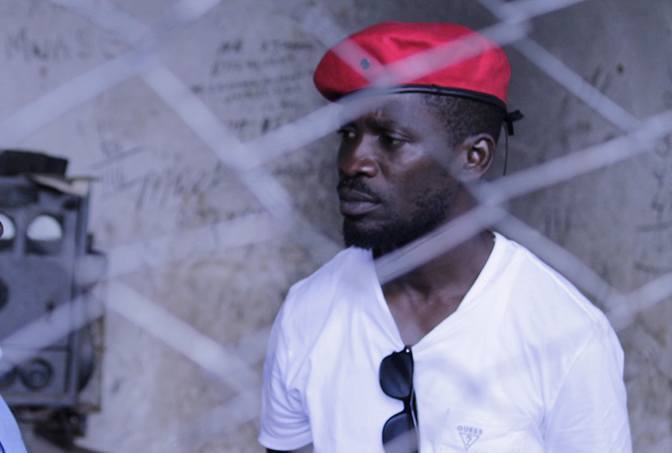 "He [Bobi Wine] blacked out and when he finally gathered himself up, he was being detained at some place at the airfield where he was picked up and taken to Gulu," said Lukwago.
He attributes the dire state in which Bobi Wine is currently in to the torture, trauma, inhuman and degrading treatment that he was subjected to.
On whether the suspect has received medical treatment which he is entitled to by law, Lukwago told journalists that a military doctor had been assigned to Bobi Wine but that he is incapacitated to adequately offer the required medical care.
"They tried to give him some medicine and they gave him a doctor who is at the rank of Captain. But the doctor told us that they lack the equipment to give him the required medication," he said.
He said that UPDF was making efforts to take Bobi Wine to a medical facility although they did not disclose whether this is a military or private facility.
The peronal doctor to Bobi Wine was blocked from accessing him, Lukwago said, wondering why.
On Friday, the army spokesperson, Brig Richard Karemire said that the military will ensure Bobi Wine gets adequate medical treatment.
"For whatever condition Hon Kyagulanyi may be in as result of the whole Arua fracas, UPDF will ensure he receives adequate medical attention now that he is under its safe custody," Brig Karemire said.
Earlier this week, the Police Spokesperson told journalists that Bobi Wine had been arrested from a ceiling of his room at Pacific Hotel after hours of search.