Customs officials from Uganda Revenue Authority (URA) have Sunday intercepted a man who was attempting to sneak counterfeit money into Uganda from Kenya at the Busia border. The Ugandan currency notes worth Ush 189 million were disguised as dog food, a source at URA told this website.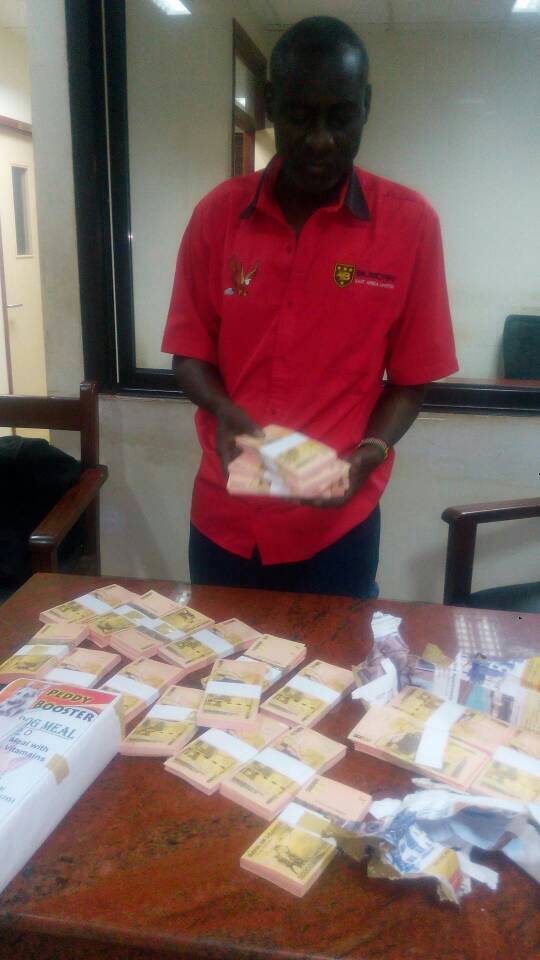 SoftPower understands that a man identified as Wahib, a conductor of a bus called Bus Car plying the Nairobi – Kampala route was found to have undeclared goods which he claimed was dog food. This triggered suspicion among URA enforcement officers who checked the package only to discover he was concealing currency notes.
The bus had only 12 people and the conductor had some of the goods but they were not verified.
"It was a huge bulk of money which was not declared. So we picked interest to know how this money came to be packed as dog food. We arrested Wahib and he told us the 'dog food' was given to him by one Sarah in Nairobi to take it to someone called Swaleh in Kampala," Ian Rumanyika the Manager of Public and Corporate Affairs at URA told SoftPower in an interview.
The conductor claimed he unsuspectingly transported a package given to him, but Rumanyika suspects that Wahib is part of a racket of people involved in the crime.
Meanwhile, security agencies used the conductor's phone to lure and track Sarah and she has since been arrested in Nairobi. An investigation into the matter has commenced and efforts are being made to arrest Swaleh.
"The money was in notes of Shs 50,000 which we at first had suspected to be in bundles of Shs 5 million."
"But when we used the machine to count note by note, we found out that there were Shs 20,000 notes totaling to Shs 189,100,000 not Shs 250 million as we had suspected," Rumanyika disclosed to this website.
All the notes had the same serial number, according to Rumanyika.
Asked about the incidence of counterfeit money, he said the crime wasn't frequent but was quick to comment that the penalties provided by the law are not strict enough to deter the vice.
"Our only challenge is the law is still weak on counterfeit. So even if we arrest Swaleh and his racket, the punishment won't be heavy to deter other people," he said.
The law on importing prohibited items provides for a fine of 50% of the value of the items. In the case of counterfeit notes, the penalty will be imprisonment for the suspect.
The bus which conveyed the counterfeits has also been seized under Section 199 of the East African Community Customs Act of 2004 and will attract a fine not more than USD 5,000. The bus is liable to forfeiture.