The Uganda Peoples' Defence Forces (UPDF) have clarified that their operations in the Democratic Republic of Congo (DRC) have not been halted.
The operation codenamed "Operation Shujaa" is aimed at routing Allied Democratic Forces (ADF) rebels in the eastern part of the vast mineral-rich country.
This follows media reports alleging that Members of Parliament in DR Congo were demanding a review of agreements with Uganda after they accused it of helping M23 rebels to capture Bunagana border town on Monday.
The reports quote the Speaker of the DRC National Assembly, Christophe Mboso Nkodia, reportedly saying that they will not allow the agreement with Uganda to have a joint military operation in eastern DRC to pass.
"This is to put it clear that Operation SHUJA is still ongoing as we continue to hunt down the ADF Terrorists," said UPDF Spokesperson, Felix Kulayigye, in a Friday June 17 statement.
"We congratulate our Generals, Officers and Men in Operation SHUJA for the achievements so far registered and for successfully defending our territorial integrity," he added.
He apologized for any confusion that could have been caused by the reports.
On June 15, the Commander of the UPDF Land Forces, Lt General Muhoozi Kainerugaba, said President Museveni had instructed him and all UPDF forces in DR Congo to hold positions.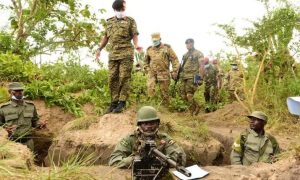 "President Museveni has instructed me and all UPDF forces to hold all our positions in the DRC! We shall do exactly that! Absolutely no movements of any troops throughout Operation Shujaa until further notice! Furthermore, we await the final declaration by Chairman Uhuru," he noted.
This also followed a call by the Chairman of the East African Community, President Uhuru Kenyatta, for immediate activation of the East African Regional Force to help restore peace and security in the eastern Democratic Republic of Congo.
He said the Regional Force shall be deployed to the Ituri, North Kivu and South Kivu provinces.