BUDAPEST – In a thrilling finish at the World Athletics Championships, Victor Kiplangat of Uganda clinched the men's marathon gold.
By the 35km mark, Kiplangat was neck and neck with Ethiopia's Leul Gebresilase, both clocking in at 1:46:53. Defending champion Tamirat Tola and Stephen Kissa trailed by a mere 15 seconds.
However, Kiplangat showcased his elite athleticism, breaking away from Gebresilase with just 4km to go.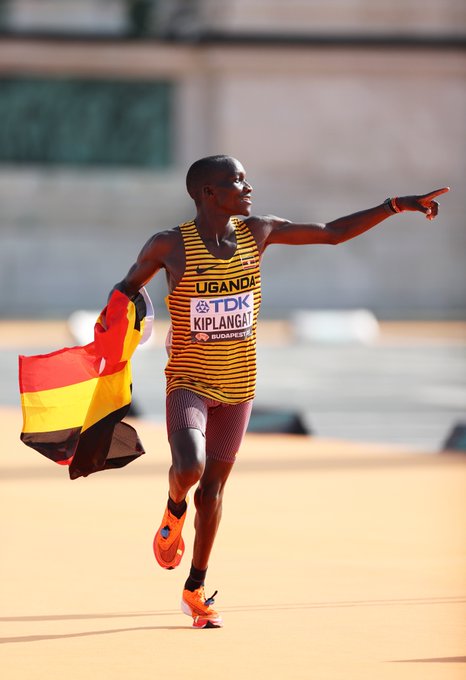 He maintained the lead and sprinted across the finish line with a time of 2:08:52. But the race for the silver medal was just as intense.
Manu Teferi from Isreal overtook Gebresilase in the final 400m, securing silver in 2:09:12. Gebresilase wrapped up the podium finishes, taking bronze in 2:09:19.
Victor Kiplangat's victory in the men's marathon at the World Athletics Championships marks a significant achievement for Uganda, as it's the country's second gold in this event.
The first gold was secured by Stephen Kiprotich in 2013 when he outpaced his competitors in Moscow.
The conditions in Budapest during the World Athletics Championships marathon were challenging, to say the least.
With temperatures inching close to a sweltering 30°C coupled with high humidity levels, athletes were tested not only by their competition but also by the environment. Watch athletics.
Six days ago, Uganda's Joshua Cheptegei also delivered a spectacular last lap to win a third successive World Championship 10,000 metres gold despite barely competing over 25 laps in the last three years.
The world record holder of 5000m and 10,000m has had an injury-hit year and struggled to hit his top form but, on a hot, humid night in Budapest, he broke clear approaching the bell and stamped his authority over the field with a 53-second last lap to come home in 27:51.42.
Credit: World Athletics