8 June 2023 – Scalable engineering innovations created to address high gas prices by retrofitting motorbikes to run on batteries; easily diagnose and treat uterine health issues without anaesthetic; recycle lithium-ion laptop batteries into power packs for affordable electricity; and connect local communities through a digital rescue network to form community policing groups; have been selected as finalists for the prestigious Africa Prize for Engineering Innovation 2023.
The Africa Prize, founded by the UK's Royal Academy of Engineering in 2014, is Africa's biggest prize dedicated to engineering innovation.
The ninth winner will be announced in Accra, Ghana, on 6 July 2023, and will be awarded £25,000, with the other three finalists receiving £10,000 each.
This year's finalists are from Nigeria, South Africa, Tanzania and Uganda, each of which is home to a previous Africa Prize winner. One of these nations will therefore see the selection of its second Africa Prize recipient in 2023.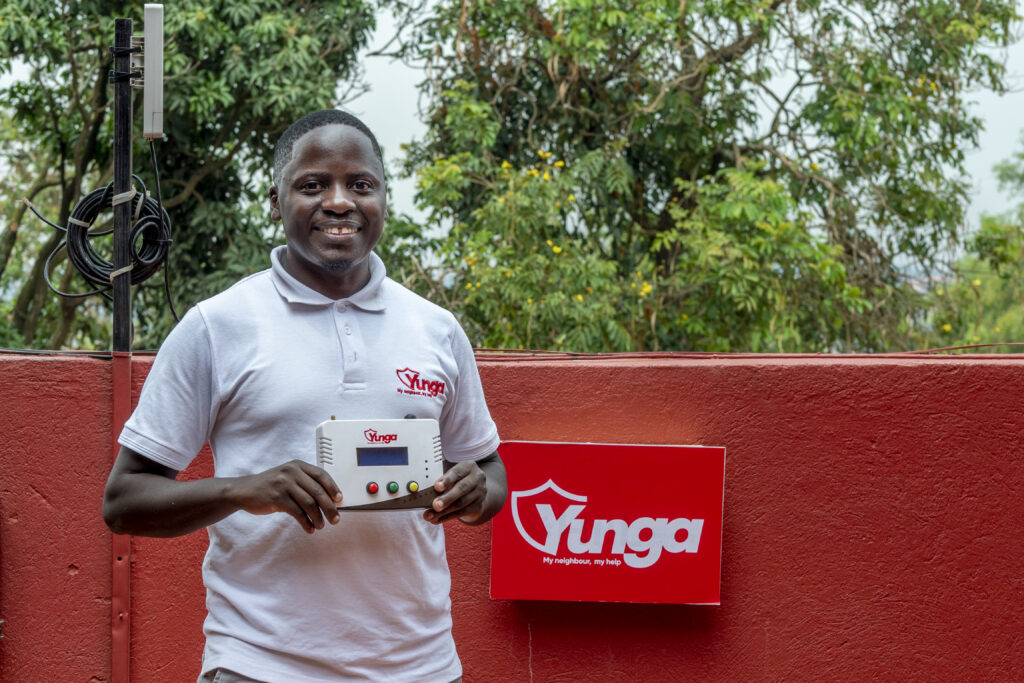 Anatoli Kirigwajjo, a Ugandan software engineer, developed YUNGA, a local digital security network that connects neighbours to each other and police within a 20km radius via a physical device, smartphone app or SMS service, providing security at a low cost.
Communities are divided into networks of 10 to 30 households, each receiving a device connected to a local area network. In cases of emergency, pressing a button sets off a load alarm on all devices connected to the network, and sends a message with the victim's details to other devices, prompting a community response.
The system includes motion sensors for when users leave their homes or businesses. YUNGA also operates in areas with no internet through a long-range wide area network. YUNGA reduces response times from hours to the shortest time possible for members of the network to reach someone in danger.
"I developed YUNGA after losing USD 1,300 worth of assets in a break-in, with little chance of the thieves being caught. We hope that with our household networks, communities will become harder targets for criminals. This will ensure safety, which in turn will create the space for economic activities to thrive," he said.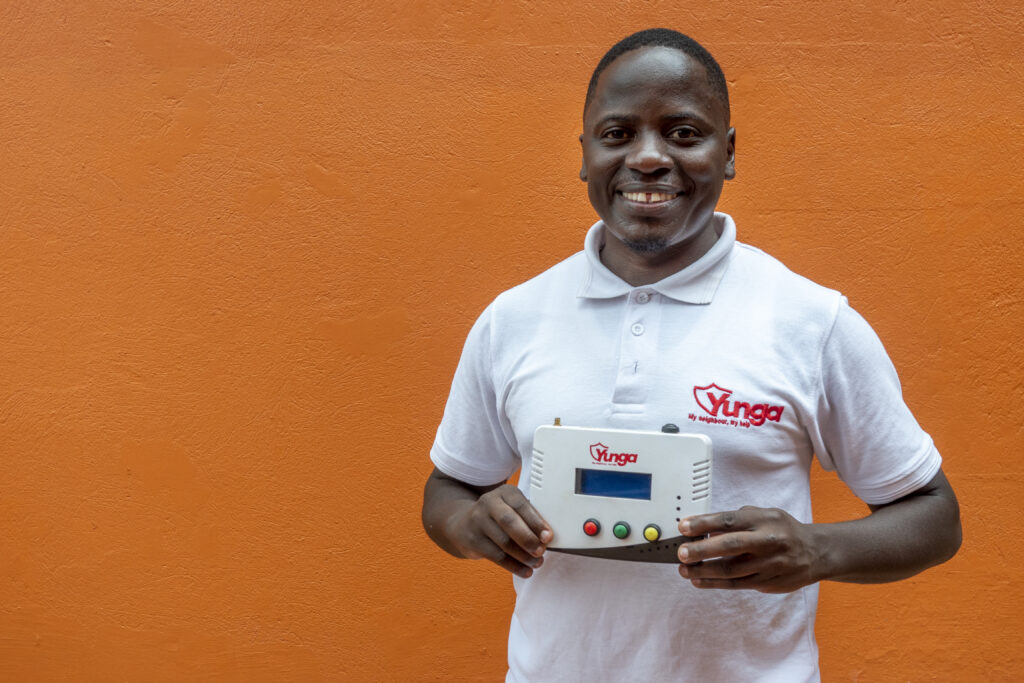 Other 2023 finalists:
Chukwuemeka Eze, a Nigerian electrical engineer, developed the Revive Kit, a modular e-mobility service used to convert gas-powered three-wheeled motorbikes to run on rechargeable lithium-ion batteries. Drivers can save up to 60% in operational costs, including gas or petrol, and 90% in maintenance costs.
Eze's company also trains technicians in the use of the kit. The Revive Kit includes lithium-ion batteries, an AC induction motor, a retrofit shaft and an electronic controller, which acts as the inverter.
It also includes a vehicle-to-home power adapter. Hall-effect sensors interface the throttle and the motor to the controller to determine and regulate motor speed. Other sensors monitor the vehicle's battery and location, engine performance, motor temperature and maintenance requirements.
Edmund Wessels, a South African biomedical engineer, developed FlexiGyn, a battery-powered portable handheld device enabling gynaecologists to diagnose and treat a woman's uterus without anaesthetic or expensive equipment, increasing women's access to reproductive healthcare, particularly in remote areas.
Typical hysteroscopy systems are rigid, leading to high levels of patient discomfort, and requiring bulky additional equipment for visualisation. This innovative device offers a more comfortable and efficient experience for both patients and healthcare providers.
Gibson Kawago, a Tanzanian electrical engineer, developed the WAGA PAWA Pack, a rechargeable power source created from recycled laptop lithium-ion batteries, providing a reliable and affordable electricity source.
Batteries are tested over two to four weeks to ensure conformity with the manufacturer's standard. Once assembled, the pack has an output of either 12, 24, 36 or 48 DC volts or inverted to 203 or 110 AV volts, suitable for different applications, including powering lights, appliances and heaters.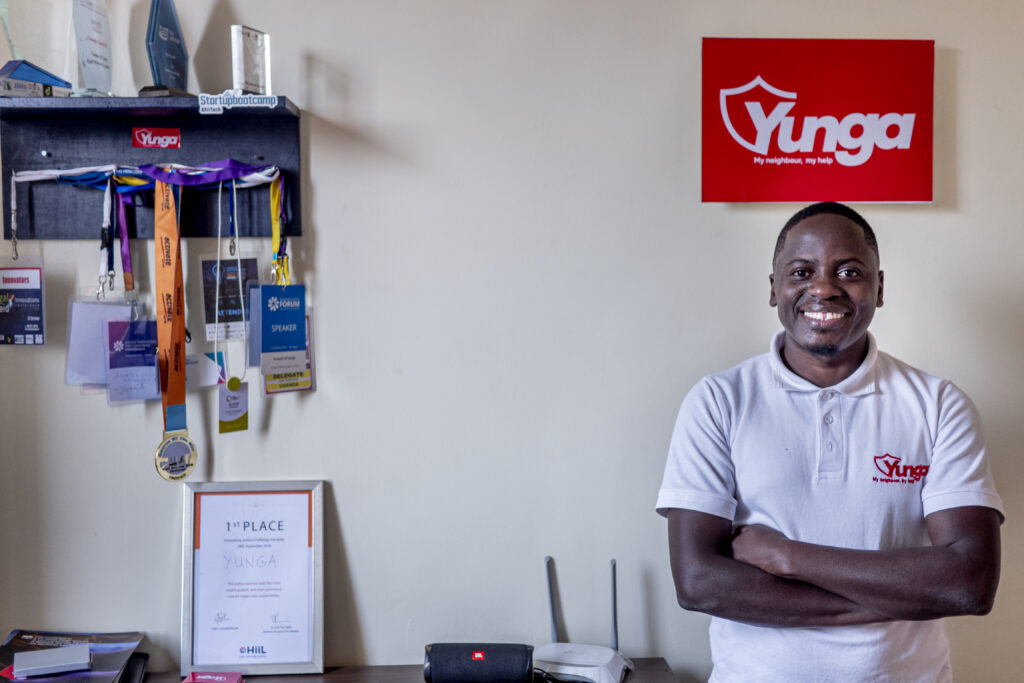 The four finalists were selected from a shortlist of 15 African innovators for their proven ability to harness engineering to address common problems faced by Africans across the continent.
The innovations tackle challenges central to the UN's Sustainable Development Goals, including good health and well-being, affordable and clean energy, peaceful and inclusive societies, and reduced inequalities.
The finalists were chosen by the Royal Academy of Engineering after receiving support over eight months to help them accelerate their businesses.
This included comprehensive and tailored entrepreneurship training, sector-specific engineering mentoring, communications support, pitching opportunities and access to the Academy's network of high profile, experienced engineers and business experts in the UK and across Africa.
The 2023 finalists will pitch their innovations to a panel of five judges and a live and online audience in Accra on 6 July.
Local supporters, industry peers, engineering and entrepreneurial enthusiasts, innovation hubs, investors, as well as media are encouraged to attend the Africa Prize final free of charge in person or online here.