A fundraising drive led by Salam Charity has raised at least Shs 47 million to construct classes and the main hall at Kemishego Senior Secondary School in Ntungamo district.
Speaking at the fundraiser, Salam Charity's Hajji Karim Kaliisa said they want to improve the school's infrastructure and learning environment.
He added that after the infrastructure, they will move to acquire a UNEB centre so that students can do their final national exams at the school premises.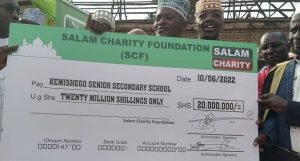 Meanwhile, Imam Idd Kasozi from Uganda Muslim Youth Assembly and Mia Mia Foundation appealed to Muslims to always remain united on developmental matters.
Salam charity made a cash contribution of Shs 20m, Imam Kasozi pledged Shs6m, Owek Mutaasa Kafeero contributed Shs5m, among others.
The Community and school management thanked Salam Charity for coordinating the fundraising.
Kemishego SS was established in 1986 by the former district Kadhi of Greater Ankore, the late Sheikh Abdunoor Kaduuyu, and the late Hajj Bumali Kagingo, among others.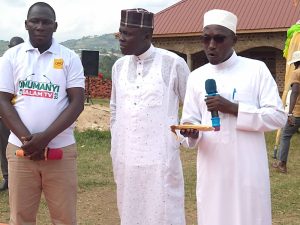 In 1992, the school suffered setbacks which led to its closure by then minister of Education, Amanya Mushega.
In 2019, the District Kadhi of Ntungamo Sheikh Swaleh Kashangirwe made efforts to revive the school with the support of Salam Charity and Salam TV.
Meanwhile, after the Fundraising drive, Salam Charity made some  Food distribution to the new converts, needy and elderly in South western Uganda.