Rishi Sunak will become Britain's next prime minister, prevailing in a chaotic Conservative Party leadership race on Monday after his remaining rival for the position, Penny Mordaunt, withdrew.
He will be Britain's third leader in seven weeks and the first prime minister of color in its history.
The 42-year-old former chancellor of the Exchequer who is the son of Indian immigrants, Mr. Sunak won the contest to replace the ousted Liz Truss, who resigned under pressure last Thursday after her economic agenda caused turmoil.
Boris Johnson, the prime minister before Ms. Truss, pulled out of the race on Sunday night, clearing a path for Mr. Sunak, who challenged Ms. Truss last summer but lost in a vote of the party's members.
As the only surviving candidate this time, Mr. Sunak was not subjected to another vote of the membership.
It was a head-spinning reversal of fortune for Mr. Sunak, whose resignation from Mr. Johnson's cabinet in July set in motion the events that brought down his boss over a series of scandals and pitched Britain into weeks of political upheaval.
It puts him in the pathbreaking category of Margaret Thatcher, Britain's first female prime minister, and Benjamin Disraeli, its only Jewish prime minister. But it also puts him in office at an acutely difficult moment.
Britain is suffering the global scourge of inflation, as well as the self-inflicted damage of Ms. Truss, whose free-market economic agenda, featuring sweeping tax cuts, upended markets and sent the pound into a tailspin.
Mr. Sunak still faces steep hurdles in trying to unify a demoralized and divided Conservative Party.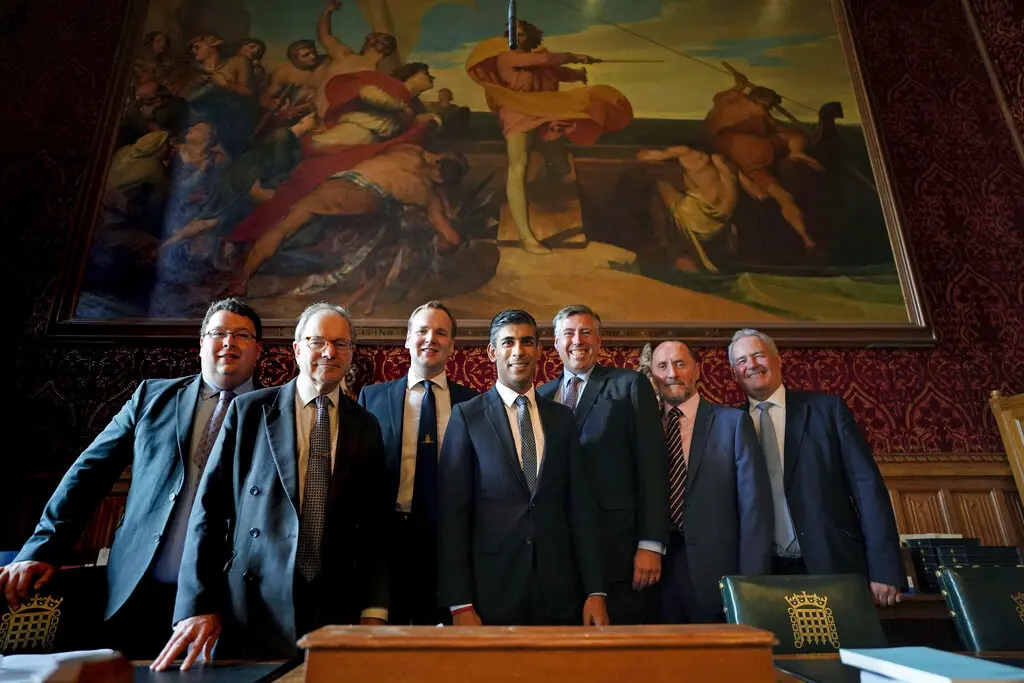 Mr. Johnson's aborted bid and Ms. Mordaunt's unsuccessful challenge will leave many members angry. Some continue to view Mr. Sunak as his former boss's political assassin.
The Conservatives lag behind the opposition Labour Party by more than 30 percentage points in polls. Calls for a general election have started and are likely to intensify as the new prime minister embarks on a belt-tightening economic program during a cost-of-living crisis.
Who is Rishi Sunak?
Rishi Sunak was born on 12 May 1980 in Southampton to African-born Hindu parents of Punjabi Indian descent, Yashvir and Usha Sunak.
He is the eldest of three siblings. His father was born and raised in Kenya while his mother was born in Tanzania.
His grandfathers were born in Punjab province, British India, and migrated from East Africa with their families to the UK in the 1960s.
His paternal grandfather, Ramdas Sunak, was from Gujranwala (in present-day Pakistan) and moved to Nairobi in 1935 to work as a clerk, where he was joined by his wife Suhag Rani Sunak from Delhi in 1937.
His maternal grandfather, Raghubir Sain Berry MBE, worked in Tanganyika as a tax official, and had an arranged marriage with 16-year-old Tanganyika-born Sraksha, with whom he had three children, and the family moved to UK in 1966, funded by Sraksha selling her wedding jewelry.
By New York Times