The Speaker of Parliament, Rt Hon Anita Among, has spoken out on what she termed as "incorrect and misleading media reports" purporting that MPs had increased their salaries. 
She was chairing the Tuesday plenary which saw Members of Parliament return from a month's recess.
The House first observed a moment of silence in memory of the children who were killed in a fire at Salama School for the Blind in Mukono and the police officers killed in Busiika Town Council, Luweero district. 
"I have noted incorrect and misleading media reports purporting that MPs had proposed to increase their pay and pension contribution," she said.
She cited a headline in Daily Monitor saying that MPs had secretly increased their salaries by 40%.
"Monitor, if you have nothing to write, don't write about this Parliament, don't write about what you don't know. Pension is different from a salary," she stated.  
She went on: "This is erroneous and may be aimed at creating an unnecessary public backlash against otherwise well-meaning legislators. I urge the media to always ensure factual and balanced reporting and always seek clarity on matters in which they have an interest."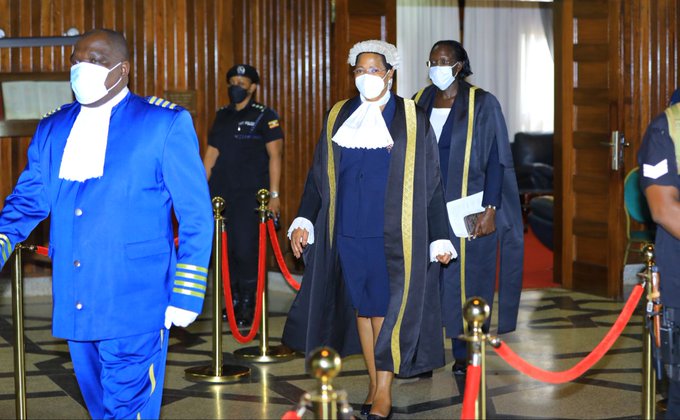 The article alleged that in a 13th October letter to Speaker Anita Among, President Museveni declined to assent to the Parliamentary Pensions (Amendment) Bill, 2022 because the MPs voted to increase their savings from 15 to 20 per cent, subsequently increasing government contribution to individual lawmakers' pension from 30 per cent to 40 per cent.
Among said that the President returned the Bill because he was advised by the Ministry of Finance that it did not include the amendment of the increment of the contribution from government fund from 30 to 40 per cent.
"Why do you come here and report what is not right? As Parliament, we have never increased our salary. We are here to work for the public, we are not complaining about our little salary. Write what is correct, don't write what you think," said Among.  
She added that the Parliamentary Pensions (Amendment) Bill, 2022 and the Public Health (Amendment) Bill 2021 that were returned by the President have been referred to the committees of Legal and Parliamentary Affairs and the Health respectively.
She added that the Parliamentary Pensions (Amendment) Bill 2022 will be handled on Wednesday, 02 November 2022, since the committee has already handled it.
While terming it as "opaque reporting", Hon Among directed the Clerk to Parliament to organize some tailor-made media trainings to build capacity in Parliamentary reporting. 
The Speaker further asked the media to be responsible by reporting what is correct and not what they presume to be correct. 
She also thanked H.E the President for asserting the Computer Misuse (Amendment) Act, 2022.