The National Resistance Movement (NRM) party  leadership has called on the government to amend the Local Government Act to incorporate party leaders across all levels.
Speaking at a meeting with party leaders from the seven sub-counties that make up Mpigi district at the Mpigi district headquarters, the NRM Deputy Secretary General Rose Namayanja, revealed that as NRM, they are lobbying government through the Ministry of Local Government and Parliament to make an amendment to the Local Government Act to allow party chairpersons from district to parish levels sit in councils as ex-officials just like the Secretary General who sits in cabinet.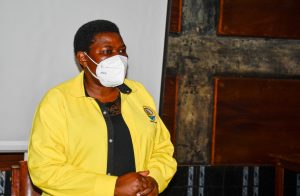 Namayanja said that this will help the party have an input into policy formulation, implementation, monitoring and evaluation.
She blamed failure of government programs on elected leaders and technocrats saying, they have become centres of corruption and compromise, rather than working for the ordinary people.
Namayanja further directed the district party leaders to start compiling reports that detail all government programs in all sectors that are under implementation, those that have been completed and those that have stalled and forward them to the party headquarters quarterly to ensure that they follow up working with line ministries, agencies and departments.
"NRM will closely monitor the implementation of its manifesto right from top leadership to the village level by identifying what has been achieved and what has failed," Namayanja said.
She added, "This should be part of your mandate as leaders in the ruling party since failure by these programs directly impacts on the performance of your party during general elections. We are not going to wait for the manifesto implementation week but this time round we are moving up to the grassroot to monitor these programs."
Namayanja urged Mpigi leaders to welcome and directly involve themselves in all government programs especially those that are aimed at poverty alleviation like Operation Wealth Creation (OWC), Emyooga for specialized sectors and the Parish Development Model.
She said that these programs will uplift many people from subsistence to commercial production.
In the same the meeting, that meant to draw a new strategy on how to plan and implement the NRM manifesto in Mpigi district, the NRM leaders raised several challenges that affect their work ranging from limited support from the secretariat, internal bickering and inadequate information about the available government programs.
Responding to some of their concerns, Namayanja promised to work with officials from Office of the Prime Minister to avail every information concerning government programs.
The district leaders led by Lubyayi John Bosco applauded Namayanja for listening and addressing their issues, saying such engagements show the party leadership thinks about them.
They further pledged to corporate with leaders at all levels to make sure government programs benefit all Ugandans.