Arusha, Tanzania, 21st July 2022: The Summit of EAC Heads of State reaffirmed commitment to implementing the EAC Common Market Protocol.
The Summit that met physically for the first time in three years noted that the Common Market was the best way to increase intra-regional trade and spur economic growth in the region.
The High-Level Retreat for the Summit on the EAC Common Market was held on Thursday 21, in Arusha, Tanzania under the chairmanship of Kenyan President Uhuru Kenyatta.
It deliberated at length on the vast opportunities available to the region under the protocol and how to exploit them for the benefit of all Partner States.
Speaking at the retreat, President Yoweri Museveni said that there is no way a country or region could achieve prosperity if it doesn't solve the issue of market size.
"The more goods people can buy from you, the better," said President Museveni, adding that the global trend over the past two hundred years was to expand markets to guarantee prosperity.
He observed that Latin America was rich in natural resources yet its people were suffering and flocking to the US to escape poverty due to disorder in the region's economic policies.
Museveni noted that a robust policy framework was key to attaining economic growth in all sectors.
On Covid-19, President Museveni said that it had been a mixed bag with a good and bad side, revealing that Uganda was upgrading its ARV factory to produce vaccines for life-threatening diseases and conduct research.
He also added that the current fuel price crisis was another opportunity for the EAC and Africa to take charge of their destiny by shifting to cheap and cleaner energy sources.
He disclosed that Uganda would upgrade its Kiira automobile plant to produce electrical cars that reduce fuel consumption.
On his part, Kenyan President Uhuru said that infrastructure development was critical in attaining the region's objective of being one big market stretching from the Indian Ocean to the Atlantic Ocean.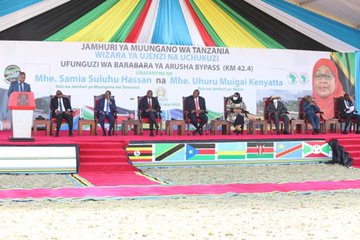 Kenyatta noted that East Africa would only attain the Common Market if its citizens were able to communicate easily, and to move and ferry goods freely across the region.
He said that Kenya was keen to build transnational roads extending to all her borders, adding that the Multinational Bagamoyo-Horohoro-Lunga Lunga-Malindi Road stretching along the coasts of Kenya and Tanzania was currently under construction and would be launched soon.
The EAC Chairperson said that the massive infrastructure development including modern railroads on both the Northern and Central Transport Corridors was meant to reduce the cost of movement of people and goods across the region.
He added that EAC had a vast opportunity to grow with its ever-expanding market and therefore reduced economic dependence on the developed world.
Kenyatta also defended his government's policy to take Chinese loans saying that without infrastructure development, Kenya and by extension EAC would remain a primary producer of raw materials.
On her part, Tanzanian President Samia Suluhu Hassan called for intensive agriculture through irrigation and rainwater harvesting to double food production in the region and boost food security.
President Hassan emphasised the need to avail cheap credit to farmers to purchase inputs to boost agricultural production.
She further observed that pre- and post-harvest losses were impacting negatively on agricultural production in the region, adding that proper storage was crucial to attaining food security.
The Tanzanian Head of State called for the establishment of a food balance sheet for the region that would state what each country produces and on what scale.
She said that Burundi was a good example of agricultural transformation saying that the country had witnessed increase food production due to good governance and an improved security situation.
President Hassan disclosed that Tanzania was determined to increase its maize production from the 6 million tonnes for the current year to 18 million tonnes in 2023, adding that through proper planning, the region has the capacity to feed itself with a surplus for export.
On his part, Burundi's President Evariste Ndayishimiye said that EAC was doing well in terms of inter-linking its markets through infrastructure development and allowing free movement of persons.
President Ndayishimiye said that the Economic Community of Central African States (ECCAS) of which Burundi is a member was not interlinked due to lack of cooperation in infrastructure development.
In his remarks, Rwanda's Prime Minister Édouard Ngirente, who represented President Paul Kagame, said that the high cost of air tickets in the region would only be reduced by Partner States removing all restrictions on air transport services.
South Sudan's Presidential Affairs Minister Barnaba Marial Benjamin, who represented President Salva Kiir, said that South Sudan's Revenue Authority has improved collection of non-oil revenue.
Hon. Benjamin said that the country was virgin territory with enormous resources including wildlife and livestock.
Attending the retreat as a guest of the Summit, Somalia's President Hassan Sheikh Mohamud made an appeal to the Heads of State to have his country admitted as a member of the bloc.
President Mohamud said that his country had made an application to join the bloc in 2014 but added that the circumstances did not allow the application to be processed.
President Mohamud said that Somalia has had a long-time dream of joining the bloc with she shares strong historical, cultural, linguistic and economic links.
He thanked the EAC Partner States for the great efforts that they have made over the years to stabilise his country including peace-keeping.
President Mohamud said that future of Somalia and the EAC was interlinked, adding that Somalia had a lot to contribute to a stronger and more prosperous EAC including 10 million acres of arable land.
Also present at the function was the Prime Minister of the Democratic Republic of the Congo, H.E. Jean-Michel Sama Lukonde Kyenge, who represented Félix Antoine Tshisekedi Tshilombo.