The President of Uganda, Yoweri Museveni and his South African counterpart, Cyril Ramaphosa, have called for an increase in trade between the two African countries.
The call was made yesterday as the two Heads of State addressed the businesspeople during the Uganda-South Africa Trade, Tourism and Investment Summit 2023, held in Pretoria, South Africa.
The two leaders reign over a combined 105 million people, with only $130m to show for it in exchange of goods and services, according to the 2022 statistics.
President Museveni who was on a one-day State Visit to South Africa told the business people that Uganda has got a lot of business opportunities which they should utilise.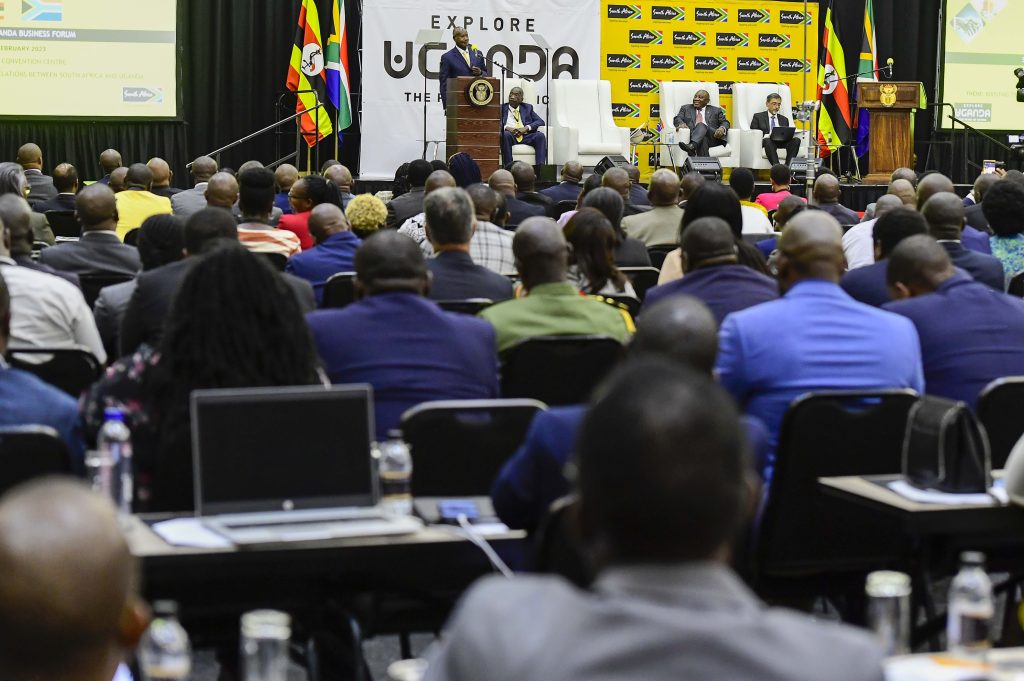 "I thank President Ramaphosa for inviting me for a State Visit to South Africa. I have not been here for some years, but I also thank you for organising this Business Forum so that we can touch base and really give you cost-free consultancy on how you can make money and if you are making money, how you can make more money," he said.
"Now I see some sleep (kulala in Swahili) in the business groups. If you look at Africa, opportunities are really plenty. Agricultural products of all types are there, they just need processing. That is a new area for our people. Then you go to minerals like iron ore, phosphates, gold, cobalt, and lithium, all those raw materials are there. I banned the export of unprocessed raw materials because I cannot associate our movement with that sort of betrayal of Africa.
Recently, I agreed to export some iron ore to our brother Kenya for 20 years, but we had to own the factory in Kenya. We also agreed on the jobs. The Chinese seem to have a better nose for smelling profits than other people. They have opened factories in Uganda, and they are making some good money," the President added.
Gen. Museveni also advised the business companies in South Africa, Europe and the USA to first see the import bill of Uganda before investing in the East African country.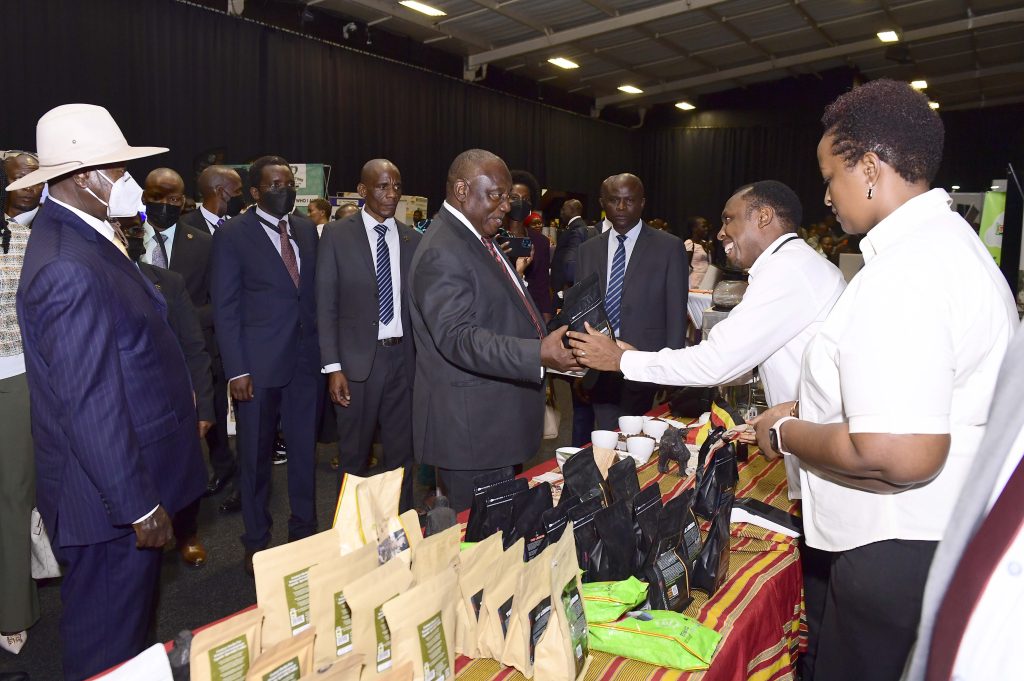 "My advice to the business companies in South Africa and also in Europe and USA, first of all, see the import bill of Uganda, the import bill of East Africa, see which projects can be replaced based on the raw materials which are available in Uganda. That is a very easy list. For instance, paper- so much money is spent on imported paper. This is my proposal, you start with import substitution and then see what you can export back to South Africa and then what can be exported back to third-party markets like AGOA, European Union or China. In that way, business decisions are clear because when something is already being sold in Uganda, you are sure of the market," he noted.
"I'm glad that you have got together, the businesses of Uganda and those of South Africa. Of course, South Africa has more entrepreneurs with capital, but the ones of Uganda are also coming up."
President Ramaphosa assured both the Ugandan and South African business communities that he together with President Museveni are working around the clock to boost trade and investment between the two countries.
"When it comes to trade linkages between South Africa and Uganda, there's certainly great room for improvement. Last year, we saw a decline in the volume of trade between our two countries compared to the previous year. I don't know what caused it; it could have been the aftermath of Covid-19 but certainly, it's not something that we would like to see, we would like to see improvement and increased trade on a growing basis," the President said.
"In 2022, our two-way trade figures amounted to $130 million. We should aim to more than double this and get the trade to shoot way over to almost $300 million and I certainly think it's an achievable goal. With businesspeople like yourselves, we are ready to trade since we have identified a lot of opportunities."
He also reiterated that South Africa is open to increasing the quantity and diversity of products they source from Uganda.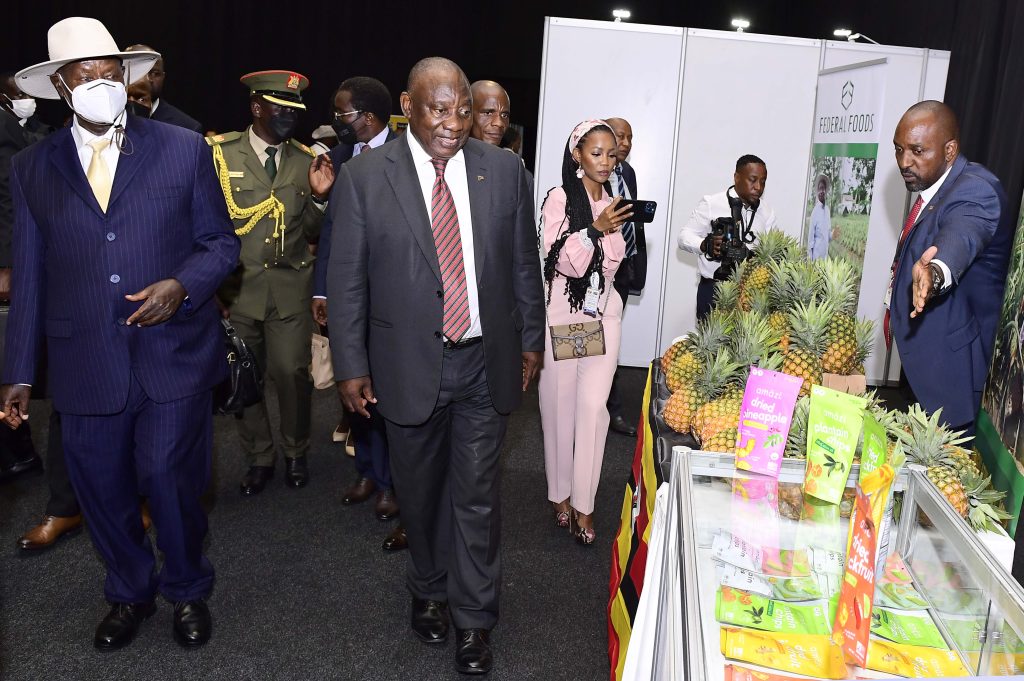 President Ramaphosa further maintained that the success of intra-Africa trade hinges on each country sourcing from one another and prioritising "made and grown in Africa" products and services.
His message lands on a heavily imbalanced trade ground for both countries, with Uganda exporting just $ 27 million worth of goods to South Africa which in return contributes a $100m difference.
The President in the same breath expressed concern over the decline in the number of South African businesses operating in Uganda which the Heads of State gave a firm commitment to resolve any challenges experienced by the private sector in both countries.
"I would like to see when I go into the Supermarket products made in Uganda, coffee made in Uganda. That is what we South Africans are hungry for.  To do so, we need to focus on a number of aspects such as increasing the level of reciprocal investment and increasing the level of trade. I would like to see many Ugandan companies investing here in South Africa. We already have a number of South African companies in Uganda. There are a number of sectors and industries where we can all play," President Ramaphosa said.
The Heads of State also requested the Ministers responsible for Trade and Foreign Affairs of the respective countries, to urgently put in place a mechanism, to address these challenges and ensure the protection of investments.