The NRM Chairman President Kaguta Museveni has arrived at Odek Primary School, Odek Sub-County in Omoro District where he is set to address NRM leaders.
The President will canvas support for the Party flagbearer Andrew Oulanyah ahead of the Omoro County by-election slated for Thursday 26th May 2022.
He will also highlight key achievements the party has registered as well as other development programs that the NRM intends to implement for the people of Omoro district.
"Through your visionary leadership and by consensus building for our party, we stepped down in favor of Andrew Ojok Oulanyah," Douglas Okello Peter, the LCV Chairperson Omoro, told the president.
"We are voting Andrew Oulanyah to Parliament to continue with the work that his late father Jacob Oulanyah had started. We request that you support him to continue with the legacy of his late father especially the Dano pa Dano SACCO whose main aim was to help in eradicating poverty among the people of Omoro," Okello noted.
According to the party draft program, Museveni will address two scientific meetings, one at Opit Senior Secondary School playground in Omoro town council, where he will meet party leaders from the sub-counties of Lakwana, Lakwaya, Akidi and Omoro Town Council.
The President will also address leaders from Odek, Lalogi, Acet Town council and Orapwoyo sub counties at another rally in Odek Sub- County.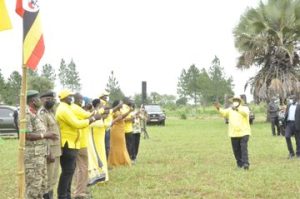 He is also expected to give guidance on key issues concerning the district as well as the district party structures.
The party chairman will also galvanize support of the people of Omoro for Ojok who seeks to replace his father the late Jacob L'Okori Oulanyah.
Museveni will also pay a courtesy visit to Mzee Nathan Okori, the father of the late Speaker of Parliament Oulanyah, at his home in Lalogi village to commiserate with the family.
Thereafter, he will lay a wreath on the grave to pay his respects to the fallen former NRM party vice-chairperson for Northern Uganda.
The Omoro County MP seat fell vacant after the demise of the area MP, the late Speaker of Parliament, Rt Hon. Jacob Oulanyah.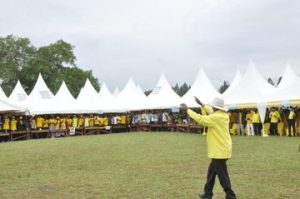 The Omoro by-election attracted six candidates that include; Ojok Andrew Oulanyah (NRM), Onen Jimmy Walter (IND), Odonga Terence (IND), Toolit Simon Akecha (NUP), Kizza Oscar (ANT), and Odong Justine (FDC).