A section of the National Assembly Lady Spouses Association of Kenya NALSA (K) on Friday, March 17, lifted a lid over ongoing leadership wrangles within the organisation.

The association of all the spouses of sitting and past Members of the National Assembly was established in 2014 to support development projects within their constituencies.

In a press release published in local dailies, NALSA claimed that the previous leadership managed to empower over 300,000 within five years.

However, NALSA lamented that the current leadership wrangles had threatened a number of development projects.

"The association grew into a strong and formidable body in only four years. NALSA (K) members carried out initiatives throughout Kenya and beyond and played a distinctive role in supporting the lives of many," NALSA stated. 
The belligerent wives claimed that the founding committee led by the NALSA (K) Founder Jackie Kiaraho handed over a thriving association to the immediate former committee in 2019.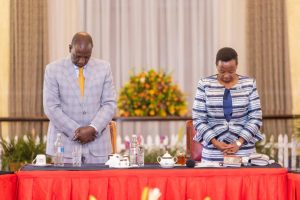 "Since then no meaningful projects or activities have taken place," a section of NALSA claimed in a press statement. 
The aggrieved MPs' spouses stated that their obligation to members and constituencies was difficult due to the current leadership's irregular and unconstitutional decisions. 
"These matters are now before the courts, under Case No. E6209 of 2022. The pleas to the courts is the proper audit of funds; the reinstatement of the original constitution, and in addition, the formation of an interim or caretaker committee that will run NALSA (K) affairs and oversee its overdue elections," NALSA noted. 
"Please note that any financial transactions carried out shall not in case of any fraud arising from the same; be borne by NALSA (K)," the organisation explained. 
The organisation's Constitution, they added, was changed in 2021 without the members' knowledge or approval. 
Thus, they warned that any meetings planned for Friday, March 17, at a Nairobi hotel were unconstitutional.
They added that decisions made in those meetings will not be binding until all matters before the court are heard and determined. 
Kenyans.co.ke