The Minister of Agriculture, Animal Husbandry and Fisheries (MAAIF), Frank Tumwebaze has assured Ugandans that the country is making strides at the 2020 Dubai Expo.
This follows negative commentary by some Ugandans on social media platforms regarding the set up of Uganda's Pavilion as well as the items exhibited as compared to other countries.
Tumwebaze has defended government's approach saying the expo is largely business to business, where many Ugandan business people are busy with business meetings while government is engaging investors.
"The expo is largely a Business to business fora. Many Ugandan business people are busy with Business to business meetings and as government we have engaged prospective investors & exposed them to our enabling policy & regulatory framework," he said
Tumwebaze said that while many were glued on the stall, his sector concluded with a big agro-processor (Elite agro) to construct a modern tea factory in South western Uganda.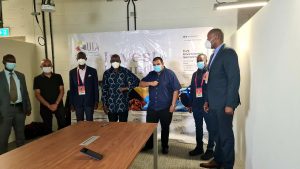 "Our sector, we concluded last night in presence of H.E Kaguta Museveni with a biggest agro- processor ( Elite agro ) to construct a modern tea factory in South West UG," Tumwebaze noted.
He added, "While we are busy winning for our country some pseudo social media intellectuals are busy mourning, sad."
On his part, Morrison Rwakakamba the Chairman of Uganda Investment Authority said Uganda's investment target at the Expo is $4 billion.
So far Uganda has signed deals over 600 million covering Agro-processing, Minerals and Pharmaceuticals.
The first of the investment deals is signed with Modha Investments, a global financing conglomerate investing in commercial agriculture, food processing, commercialisation of Cashews, Macadamia Nuts & Avocad.
"Alongside Minister of Finance Matia Kasaija, we signed investment deals worth US$650M spanning health, agribusiness, energy, infrastructure & mining. One of the first countries to seal deals at the Dubaiexpo2021.," Robert Mukiza the Uganda Investment Authority Executive Director said.