Knowledge Hub for Organic Agriculture in East Africa (KHEA), on Tuesday April 12, 2022, climaxed its inter-school debate competition on organic agriculture in schools.
The debate was meant to empower the youth on the health benefits of consuming organic products and also promote organic agriculture among students.
Speaking at the grand finale held at Grace High School in Kasangati, Wakiso district, Francis Nsanga, the KHEA Programs Manager, said they decided to work with students because they are the future leaders and if they are empowered with organic farming knowledge, the future will be bright.
"We come to schools because we know that the young stars need to have this knowledge and be able to multiply it. We know if they grow with these skills and practice them, we shall be sure that our environment will be protected and will be able to produce organic and healthy food for their households. So, that is why we come to schools to empower the young ones because we know they are the future of our tomorrow," he said.
He noted that over 15 schools participated in the debate which was won by Grace High School, the host, after garnering 25.3 points.
Oxford High School came second with 17.3 points.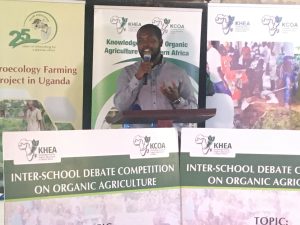 Speaking at the same event, Joshua Aijuka, the Head of Programs at Participatory Ecological Land Use Management (PELUM) Uganda, advised the students to use the knowledge and skills they acquired in the debates to better their lives and communities.
Nakachwa Irene, one of the students who took part in the debate, thanked KHEA for giving them an opportunity to learn and gain skills that will in turn help them in future.