Government of Uganda through the National Bureau for Non-Governmental Organisations (NGOs) has indefinitely halted activities of Chapter Four Uganda, Citizens' Coalition for Electoral Democracy (CCEDU) and other 52 NGOs for among other reasons failing to submit their annual returns.
In a press release on Friday morning, National Bureau for NGOs, a body under the Ministry of Internal affairs, mandated to register, regulate, monitor, monitor, inspect, coordinate and oversee activities of all NGOs in the country, said it had established that 54 NGOs had not complied with the NGO Act 2016.
Out of the 54 non-compliant NGOs, 23 continue to operate with expired permits and 16 operating without registering with the Bureau.
According to the Statement, 15 other NGOs including Chapter Four Uganda, Citizens' Coalition for Electoral Democracy (CCEDU) have failed to file annual returns and audited books of accounts to the NGO bureau contrary to Section 39(2) and (3) of the NGO Act 2016 and have other non-compliance issues.
Incorporated in 2013 under the laws of Uganda, Chapter Four Uganda is an independent not-for profit non-partisan organization dedicated to the protection of civil liberties and promotion of human rights for all in Uganda.
Its Executive Director Nicolas Opiyo has confirmed being notified of the indefinite suspension of his organization. He however says this seem to have been done in err since they filed the relevant documents in January this year.
"The National Bureau for NGOs has notified us of the indefinite suspension of the permit of Chapter Four Uganda for what they term failure to file returns and disclosing our sources of funding. We are working with the authorities to clarify what we believe is a misunderstanding," says Opiyo.
Opiyo who also shared a receiving slip of the National Bureau for NGOs added that, "We'll be writing to the National Bureau for NGOs reminding them of this and other documents filed with them and other authorities in Jan this year. Audited accounts, source of funding et al. We've always acted above board and repudiate any representation of unlawful conduct on our part."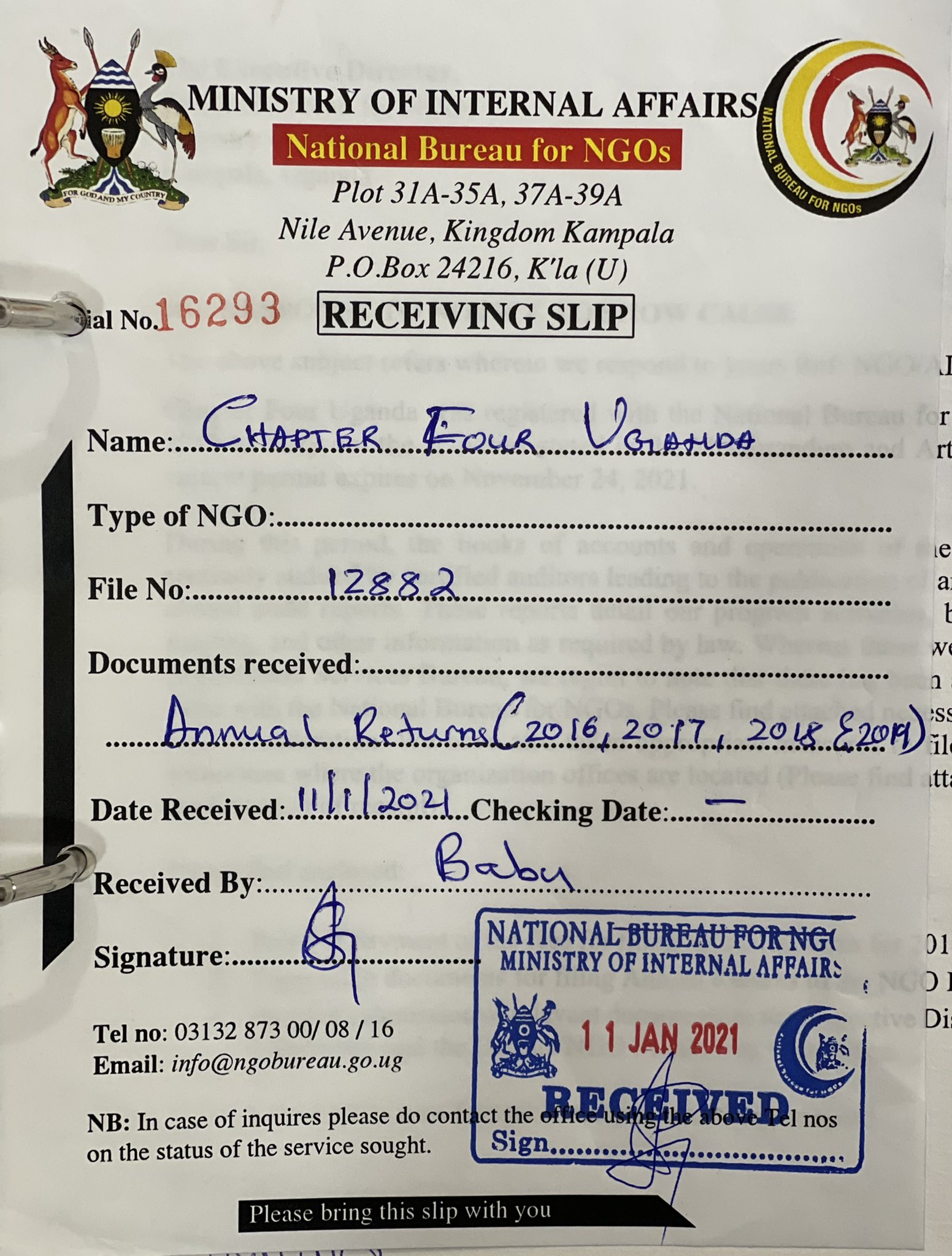 Opiyo was in December last year arrested and charged with charged with money laundering.
Prosecution alleged that Opiyo on October 8, 2020 at ABSA Bank Garden City Branch, in Kampala District acquired USD 340,000 through ABSA Bank account No.6004078045 in the names of Chapter Four Uganda, knowing at the time of receipt that the said funds were proceeds of crime.
On their part, CCEDU also confirmed being notified on the indefinite suspension.
Launched on August 19th, 2009, CCEDU is a broad coalition that brings together over 800 like-minded civil society organizations and over eight thousand individuals to advocate for electoral democracy in Uganda.
Its Executive Director CCEDU, Charity Ahimbisibwe, referred SoftPower News to the organization's lawyer Anthony Masake for details but when contacted the lawyer did not pick our calls.
Meanwhile, the Bureau for NGOs has called upon stakeholders at different level including national, district and Subcounty to ensure that the affected NGOs halt their operations with immediate effect.