The Territorial Police in Moroto are investigating circumstances under which three officials from the ministry of Energy and two UPDF soldiers were shot dead.
"It's so sad to lose these gallant Ugandans who were on duty. My sincere condolences to the bereaved," tweeted Energy Minister Ruth Nankabirwa Ssentamu.
The three geologists attached to Ministry of Energy and Mineral Development and two Uganda People's Defence Forces (UPDF) soldiers were attacked by suspected cattle rustlers in the Karamoja sub region on Monday.
The geologists are; Richard Kiggwwe, the lead geologist and his colleague, Charles Olweny and Edna Musiime, an intern from Makerere University.
They were picking soil samples from Lokisilei village in Lotisan Sub County in Moroto District, accompanied by two unnamed UPDF soldiers.
According to Brig Joseph Balikudembe, the UPDF 3rd division commander, the rustlers took two guns from the deceased soldiers.
The five bodies of the victims were taken to Moroto Regional Referral Hospital mortuary for a post-mortem.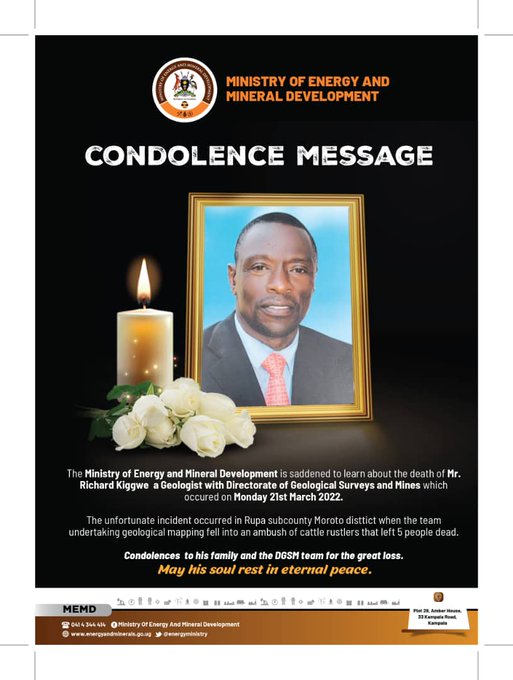 Gen Muhoozi warns the rustlers
Uganda People's Defence Forces (UPDF) land forces commander Lt Gen Muhoozi Kainerugaba on Wednesday morning warned the rustlers of consequences for this action.
"My Karimojong brothers! We have begged you to stop the life of robbery and violence. We have begged you to stop attacking your neighbours but to no avail! You have refused all our appeals! Well, now we are coming and hell is coming with us!" Lt Gen Muhoozi said on Twitter.
He added: "Karimojong criminals killed my soldiers in cold blood! There will be hell to pay for that!! If they want to avoid retribution they better get in touch with our RDCs and commanders in the region NOW!! Otherwise, let us see who the real men are!"
Last week, the army said the ongoing joint security forces operation code named "Usalama Kwa Wote" against illegal guns and ammunitions in Karamoja sub-region led to the recovery of 17 illegal guns, arrest of 1,724 warriors and prosecution of 316 others.
Brig Gen Balikudembe, who is the overall Commander of the operation, said the operation has also recovered 170 illegal riffles, 2,232 Rounds of Ammunition and 15,558 stolen cattle since its inception in July 2021.
He said the resorted to using poisonous bows and arrows as alternative weapons during livestock raids in Kotido, Moroto and Nakapiripirit districts.
'Usalama Kwa Wote' loosely translated as 'Peace for All' aims at the total restoration of peace and security in Karamoja sub-region.