The Chief of Defence Forces (CDF) Gen David Muhoozi has challenged the newly promoted army officers on the task and responsibilities that lie ahead of them. He said that while their recent elevation is an achievement, it comes with challenges that they must prepare to prevail over.
Gen Muhoozi made the remarks on Monday while decorating General officers and senior officers of the UPDF at the Ministry of Defence and Veteran affairs headquarters Mbuya hill.
The officers were among the over 300 newly promoted officers on November 19, 2017 by President and the Commander-In-Chief of the Uganda Peoples' Defence Forces, Gen (Rtd) Yoweri Kaguta Museveni.
After performing the decoration ceremony, Gen David Muhoozi reminded promoted officers of the opportunities and responsibilities that come with the new ranks.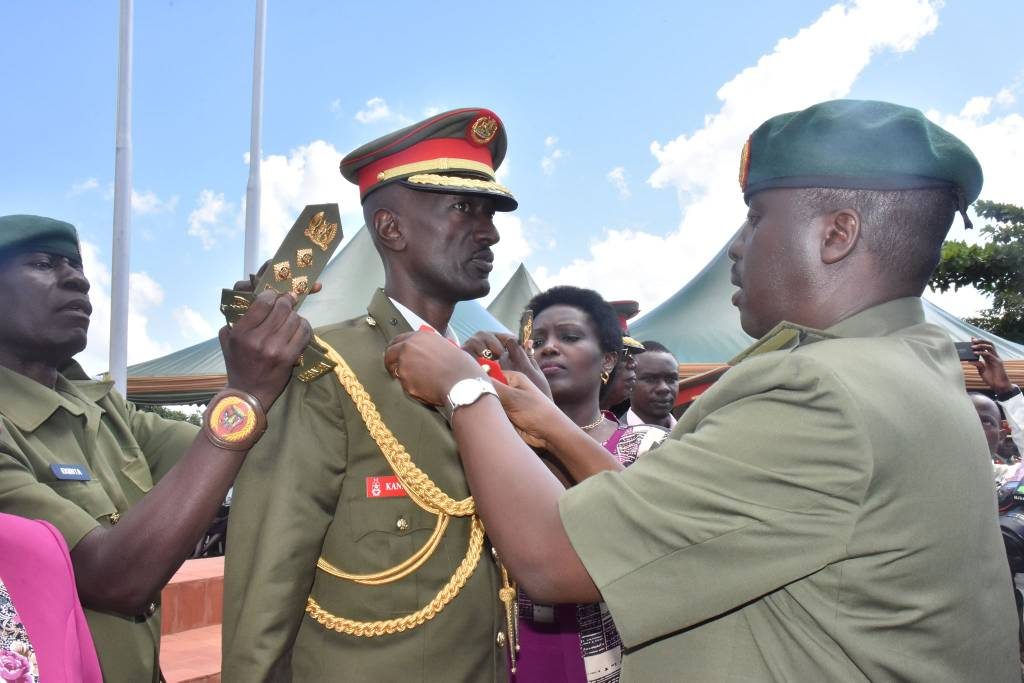 "New ranks come with new opportunities, new responsibilities and new challenges," he said.
He assured the officers that the awarding of ranks is commensurate to their new roles of leading bigger teams and that they have been found capable of performing their new roles.
The CDF warned the officers that the institution and the general public will condemn or approve of them by the same ranks they are elevated to according to their performance.
He chronicled to the guests who included spouses and families of the newly promoted officers the history of UPDF that was fully reflected in the categories of officers presented.
Officers were from the old age, the middle and the young ones hence projecting UPDF as a growing institution that has since transitioned to being led by younger and energetic cadres.
As a special gesture to honor the role of spouses of the newly decorated officers, the CDF required the senior officers to stand up and salute them.
He referred to them as the backbone of all that the officers do and hence contribute enormously to their promotions and success.
Maj Gen Stephen Kashaka who spoke on behalf of the newly decorated officers, thanked the Commander in Chief, the UPDF leadership for considering them fit to be promoted to another level. He promised continued loyalty and dedicated service to the country.
The function was graced among others by the representative of the Permanent Secretary Mrs Edith Buturo, the UPDF Joint Chief of Staff Maj Gen Joseph Musanyufu, the General Manager NEC Maj General James Mugira, Maj Gen Nakibus Lakara the Commandant of the Uganda Rapid Deployment Capability Centre and other UPDF General officers.