Katuna border – Rwanda has today Sunday handed over the body of a Ugandan trader who was shot dead by Rwandan authorities as he carried a box of Movit products requested by Rwandans across the border.
Justus Kadogo Kabagambe, 25, a resident of Rutare Village, Bigaga Parish in Butanda sub county Kabale district met his death 11 days ago when Rwanda Defence Force (RDF) soldiers shot at him at the porous border.
SoftPower News reported the murder of the Ugandan. Read here: https://www.softpower.ug/rwanda-security-shoots-dead-another-ugandan/
The Rwandan delegation that delivered Kadogo's body was led by the Mayor of Burera District Uwanyirigira Marie Chantal and Nshangabasheija Nelson, the Kabale District Chairperson led the Ugandan delegation.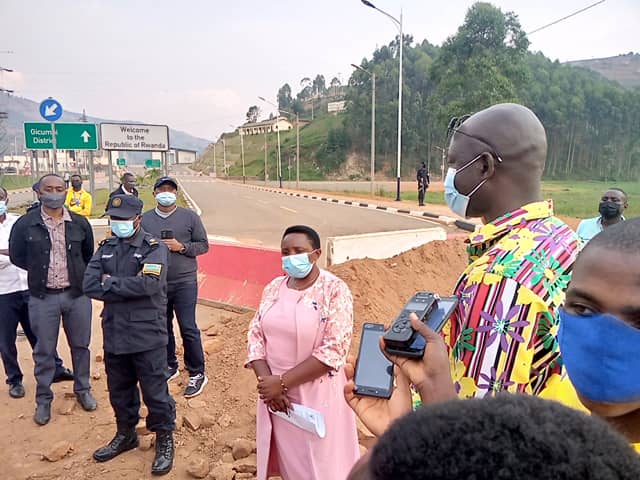 Uwanyirigira Marie Chantal accused the deceased of trying to 'riot' as Rwandan soldiers arrested and said that was the reason he was shot at. She also accused him of "carrying on Rwandan land" a box of Movit products and another of Waragi, alcohol made in Uganda and sought after across the East African region.
Earlier, a Rwandan blog, Virunga, had claimed the armed Rwandan soldiers had killed the unarmed Ugandan trader in self-defence.
Christopher Beyanga, the brother to the deceased however said the deceased had only carried with him a box of Movit Jelly, without Waragi as the Rwandans claim.
Asked why Ugandans continue to move into Rwanda amid killings by Rwanda Defence Forces, he said Ugandans and Rwandans living at the border are closely related and that prices of basic items are very high in Rwanda.
"It is difficult to stop relating as we are closely related. Prices of basic items are very high in Rwanda and so we are sometimes requested to send Ugandan items to our relatives and friends across the border.  It is also difficult to tell where the border line stops as our village homes are near each other and we used to visit each other for many years before Rwanda declared visiting as illegal," he said.
Video:
Benon Mukaga, the LC one chairman of Rutare village, Bigaaga parish in Butanda sub county also the father in-law to the deceased asked the Ugandan government to task Rwanda as a country to compensate the deceased's family.
"The deceased has left two young children and a young wife, how will they survive? How I wish Ugandan government talked to Rwandans to compensate the deceased's family, "Mukaga said.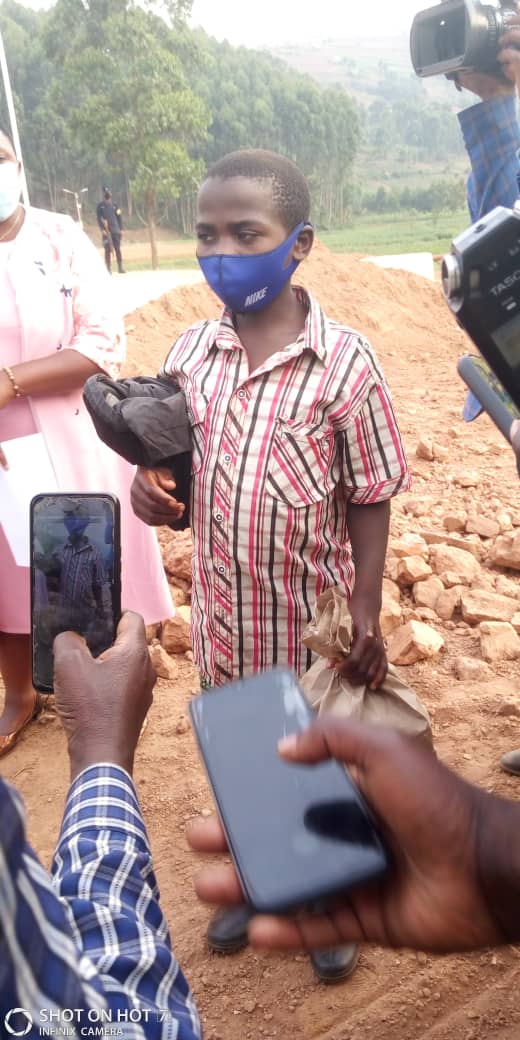 Elly Maate, the Kigezi regional police spokesperson who was present at the function urged Ugandans to desist from travelling to Rwanda through the shared porous village borders as visiting was declared illegal by Rwandan authorities.
Kadogo is the tenth Ugandan killed by Rwanda while visiting relatives or carrying much needed items across the border. Many of these Ugandans are falsely accused of being smugglers. Rwandans have also shot at Ugandan nationals within Uganda.
In January this year, a Ugandan, Teojen Ndagijimana, aged 26, was shot dead by Rwanda Defence Force in Kumugu Trading Centre, Musanze District inside Rwanda, about three kilometres from the Ugandan border.
Other Ugandans who have been shot dead by Rwandan forces are Alex Nyesiga, 32, who was killed in May last year together with a Rwandan national as they crossed on foot into Rwanda from Uganda.
On November 9, two other Ugandans, Job Ebyarishanga and Bosco Tuheirwe, both residents of Rukiga District, were shot dead at the shared border. Rwanda police later claimed the deceased were smuggling raw tobacco into the country.
The killed Ugandans and Rwandans are never tried by any Rwandan court of law. They are shot dead.
Uganda hosts more than 1.4 million refugees including Rwandans who flee their country into Uganda. The country's open door policy to refugees has been  hailed by the United Nations as one of the best in the world.
Rwanda's President Paul Kagame has for more than two years closed the Rwandan border stopping Rwandans from crossing into Uganda. He accuses Ugandan authorities of harbouring elements opposed to his regime.
It is not clear why the authoritarian ruler of the small East African country does not instead deal with the issues that lead to Rwandans fleeing their country into refuge in Uganda and other countries in the world.