The Commander of Land Forces Lt Gen Muhoozi Kainerugaba has announced that since "Operation Shujja" began on the 30th of November 2021, Ugandan troops have killed no less than 1,000 ADF terrorists.
"I, Lt. General Muhoozi Kainerugaba, Commander Land Forces of UPDF can promise the people of Uganda that we have already killed 1,000 of the terrorists that attacked us in November. But to the people of North Kivu and Ituri, our joint operation is going to terrorise the terrorists. I declared all of North, South Kivu and Ituri Christian lands!" he tweeted on Wednesday.
He added: "ADF made the biggest mistakes in their lives when they attacked our Parliament! We shall not stop killing them until our President @KagutaMuseveni tells us to!!!"
While addressing the press at Uganda Media Centre on Monday, army spokesperson Brig Gen Felix Kulayigye, said the troops are currently conducting active defensive activities in three sectors of operation Shujja.
"Sector 1:Nobili-Kamango-Mukakati to R. Semulik bridge K51 under the command of Col James Kasule the 111 Brigade Commander. Sector 2: Burasi-Boga to Kainama Commanded by Col Ben Sserwada the 333 Brigade Commander. Sector 3: Kasindi to Beni Commanded by Col Columbus Tumwine the 222 Brigade Commander."
Kulayigye said ADF that had entrenched themselves in the impenetrable Virunga Forest creating the 'Triangle of Death', have been dislodged thereby fleeing in Southern direction towards Rwenzori mountains and others towards North Western direction of Ngomuhimbo, Mapipa, Machini hills in Irumu territory.
"On 14 February, 22 ADF remnants that were terrorizing masses between Kamango and Nobili, were neutralized by Joint Forces. As a result, 4 terrorists were Put Out of Action, 2 SMGs, 1 RPG bomb, 1 walk talkie etc were charged. The rest of the terrorists ran in disarray. Calmness was restored."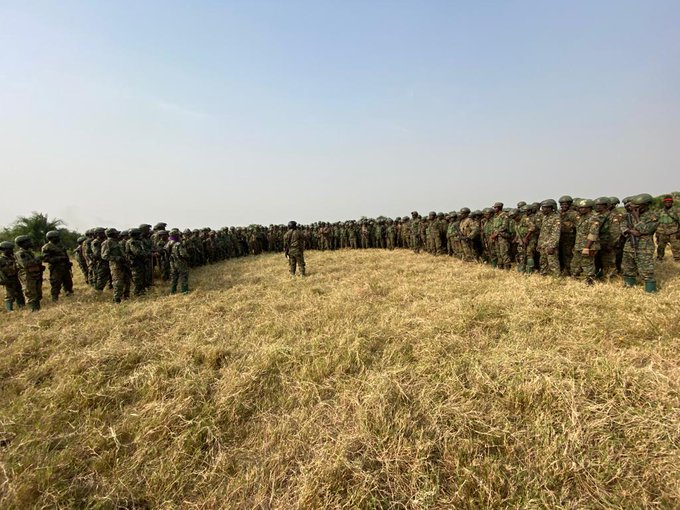 He said Joint Forces are now hunting ADF who're fleeing towards Kasindi-Mutwanga-Beni route.
"This is the 3rd axis for operation Shujja. Since UPDF deployment along this route, traffic flow has increased. Trucks moving unfettered unlike before when ADF would burn trucks and abduct occupants."
"In the dawn hours of 18 February 2022, we lost 1 soldier, Pte Oketch Calvin Oneka, aged 55, of 43 Infantry battalion. The road from Burasi-Boga in the 3rd axis which was completely impassable especially motorized mobility is being worked on. This route will shorten lines of communication to our forward bases and people to and from Bunia who used a long and risky distance of crossing Lake Albert to Ntoroko."
Operation Usalama Kwa Wote
Separately, Kulayigye said the army had recovered four guns making a total of 159 guns recovered since the operation USALAMA KWA WOTE started in Karamoja sub-region.
He said 69 Ammos were recovered making a total of 1,636 ammos recovered since the operation started.
"19 warriors were arrested, 11 put out of action and 7 prosecuted."
Meanwhile, Karamojong warriors shot Pte Oketch Calvin Oneka during a night foot patrol, when UPDF soldiers were ambushed in the suspected general areas of Adolo Parish, Morulem Sub – County in Abim district.
Oneka later succumbed to gunshot wounds while on medical evacuation.