On August 10, the Uganda-Somalia Business Summit was held at Speke Resort Munyonyo, Kampala.
Part of the summit's objective was to promote Kampala-Mogadishu partnership through investment, trade and tourism.
The summit also aimed at providing a platform for the private sector to discuss with the respective government agencies how the cost-of-doing business can be eased.
President Yoweri Kaguta Museveni and his Somali counterpart, Hassan Sheikh Mohamud, graced the event.
Uganda's Ambassador to Somalia, Prof. Sam Tulya-Muhika, said that the Uganda-Somalia Investment and Business Summit will strengthen bilateral cooperation in trade and investment between the two fraternal countries and support potential investors.
He added that since Uganda has invested heavily in stabilizing and pacifying Somalia, its important to engage in commercial and economic diplomacy to reap trade and investment opportunities.
Prof Tulya-Muhika also asked relevant stakeholders like Government MDAs to freely exchange views and ideas on how to ease the cost of doing business.
The chairperson of Uganda Investment Authority, Morrison Rwakakamba, and his Somalia counterpart, Abdirashid Xaaji, signed a Memorandum of Understanding to promote investment in agriculture, pathogenic industry, ICT, manufacturing and services.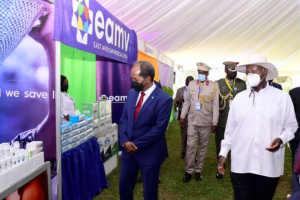 The MoU saw the two countries jointly and individually undertake measures aimed at improving bilateral trade relations and flows between them with specific interest in agricultural products.
Uganda's imports from Somalia include; Aircraft, Spacecraft, Articles of apparel, meat and optical, photo, technical, medical apparatus. On the other hand, exports are mainly: Dairy Produce, Beverages, Spirits and Tobacco.
In 2020, Uganda exported $ 676,000 to Somalia. The main products that Uganda exported to Somalia were aircraft parts ($544,000), rolled tobacco ($ 102,000), and beer ($ 16,000).
In an exclusive interview, Amb. Maj Gen Nathan K. Mugisha, Deputy Head of Mission Embassy of the Republic of Uganda, Mogadishu – Somalia, noted that Uganda's focus in Somalia has been peace keeping, adding that with peace restored and assured, both countries are now working together to boost their bilateral trade flows.
However, he said Uganda-Somalia Trade Performance remains low, despite the existing potential and the good relations between the two countries.
Looking at the market potential for Uganda in Somalia, Mugisha said there is enormous trade potential with Somalia that Uganda can harness.
He said the time for Uganda to complement peace keeping with commercial relations in Somalia is now, and we should move pretty fast.
Speaking at the Summit, Dr. Elly Karuhanga, the Board Chairperson, Private Sector Foundation Uganda (PSFU), said security assurances, good transport infrastructure and fast tracking of Somalia to join the East African Community, is among the key major areas needed to spur trade between the two countries.