The Secretary General of the National Resistance Movement (NRM), Rt.Hon. Richard Todwong, has received over 700 new converts who recently defected from opposition parties; Forum for Democratic Change (FDC) and the Uganda Peoples Congress (UPC), among others to join the ruling party.
Speaking during an event held at Bar-Okoro stadium, Paidha Town Council in Zombo district, Todwong appreciated all the converts for taking a right decision to join a party that stand for right ideologies.
"It is only the ruling NRM which since its formation has strived to better the lives of each and every ordinary citizen. This has been realized through our initiatives like the Parish Development Model and emyooga which if embraced and utilized well shall transform your families and integrate the many people in the subsistence economy into the money economy," he said.
"You have therefore made the right choice which you will not regret."
He also urged them to come into the party with commitment and faith to dedicate their energies in ensuring that NRM remains in power to fulfill all its pledges to the citizenry.
"We shall train you on how to live with faith in the NRM. In return, the Party will not give you money or jobs or anything, but we shall maintain peace and stability, and ensure that we develop Zombo through constructing roads, health centers, and schools," Todwong said.
He told the people and local leaders that President Museveni was aware of the bad state of the road from Paidha to Vura via Zombo and was committed to tarmacing it in the near future.
"When we were drafting the NRM manifesto, it is the President himself who called and directed that your road be included among those to be tarmacked under the current manifesto. I am therefore sure President Museveni knows about this road," Todwong said as he appealed to the leaders who raised the road concern.
Grace Freedom Kwiyucuny, the minister for Northern Uganda, appreciated President Museveni for endeavoring to keep the West Nile peaceful and stable from the rebels harboring in the neighboring DR Congo.
"The president has done a lot to us which gives me confidence that even the few remaining issues that affect our people here in Zombo and the entire West Nile area shall be dealt with," she said.
Meanwhile, Todwong also preceded to another function at Paidha town council headquarter and officially launched a fundraising drive to construct Christ the King Church, Paidha catholic parish.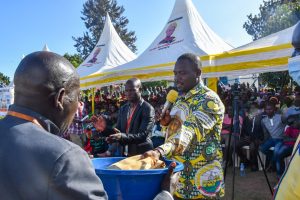 The Secretary General was in company of senior party officials from the secretariat who include; Deputy National Treasurer, Hon. Jacqueline Kyatuheire, director for mobilization, Hon. Rosemary Nansubuga Sseninde, Dr. Tanga Odoi, EC Chairman, Hajjat Medina Naham Ojale, the director for finance and administration, and director for communications and Public relations,Hon. Emmanuel Lumala Dombo.