Experts have called on government to promote inclusive education in the education sector.
Dr. Patrick Ojok, a senior lecturer and disability inclusion consultant at Makerere University noted that government should shift from the 18th century mindset of not regarding People With Disabilities rights holders and work towards inclusive education.
"We must shift from the days when Inclusive education was a missionary and individual affair and ensure it's spread at all levels and we must reflect whether it's the one we have now including training teachers, support personnel, inclusive accommodation among others," he said.
Peace Sserunkuma, a KCCA Lord Councilor for people with disabilities said that inclusive education is everyone's effort which should start at family levels.
"I hope all stakeholders can push for a life where all disabled can go to school and learn with other students in spite of the existing challenges," she said.
The call was made at a stakeholder engagement meeting organised by the Chevening Alumni Association of Uganda (CAAU) that unites Ugandan students who have studied in the UK under the Chevening scholarship program.
This was organized under the theme; Inclusive education for persons with disabilities in Uganda: Policies, practice and possibilities.
Speaking at the event, H.E kate Airey, the British High Commissioner to Uganda who also doubles as the Chevening Alumni Patron said that her government is committed to continue supporting the development of inclusive education with emphasis on girl's education and supporting all other vulnerable groups.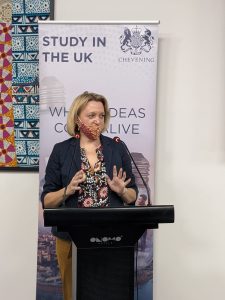 "Issues related to equality, diversity and inclusion are extremely important to us and I am glad that after today's conference, we intend to walk away with practical actions to support inclusive education in Uganda," she said.
Adding, "As you may be aware inclusive education remains a key priority for the UK Government in spite of the COVID-19 pandemic that had an adverse effect on learning for children across the country with one of the longest lockdown globally."
Ketty Lamaro, the Ministry of Education Permanent Secretary (PS) assured participants that government is committed to promoting inclusive education under the 2030 Sustainable Development Agenda which is to ensure inclusive and quality education for all and promote lifelong learning.
Lamaro noted that as a ministry they instituted a full department which she said is dedicated to coordinating and supporting the provision of services to learners with special needs and as well as promoting inclusive education.
Adding, "We are committed to seeing that learners with special needs access quality education services equitably. To ensure this, Uganda is a signatory to the international commitments that provide for learners with special needs."
Lamaro thanked the UK government for the support it has rendered to the education sector in Uganda.
"I am aware that inclusive education is close to the heart of the UK Government because through their Connecting Classrooms Program, 3,776 teachers and 1,927 Headteachers have been trained in embedding the 21st century core skills in teaching," she said.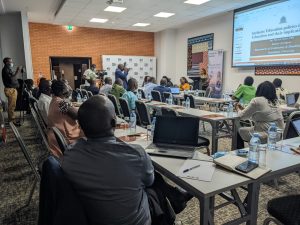 Participants also signed and committed to 10 key action points that will see promotion and realization of inclusive education in Uganda.
Approximately 2.5 million children in Uganda live with some form of disability, hindering their access to education, health, employment and from realizing their full potential.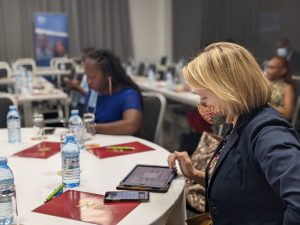 A Census Report by (UBOS 2016) indicates that 12.4% of the Ugandan population aged two years and above live with some form of disability. This implies that approximately 4.5 million Ugandans are persons with disability, hence a development concern.
The disability prevalence rate is higher at 14 % for Ugandans aged five years and above.
Speaking at the event, Hellen Nakawesa an Alumni of Chevening, said the statistics above are part of the reasons of the conference to see how inclusive education for Ugandan youth can be promoted.