Millions of rupees in cash left behind by President Gotabaya Rajapaksa when he fled his official residence in the capital will be handed over to court on Monday, police said.
Protesters discovered 17.85 million rupees (about $50,000) in crisp new banknotes but turned it over to police following Saturday's storming of the Presidential palace.
"The cash was taken over by the police and will be produced in court today," a police spokesman said.
Official sources said a suitcase full of documents had also been left behind at the stately mansion.
Rajapaksa took up residence at the two-century-old building after he was driven out of his private home on March 31 when protesters tried to storm it.
The 73-year-old leader escaped through a back door under escort from naval personnel and was taken away by boat, heading to the northeast of the island, official sources told AFP.
Thousands of men, women and children poured into President Rajapaksa's lavish mansion as months of frustration brought on by an unprecedented economic crisis boiled over.
In the "Gordon Garden" park of the palace, families enjoyed a picnic lunch as Buddhist monks in saffron robes marvelled at the marble floors and air conditioning.
Monk Sri Sumeda said: "When leaders live in such luxury, they have no idea how the commoners manage.
"This shows what can be done when people decide to exercise their power."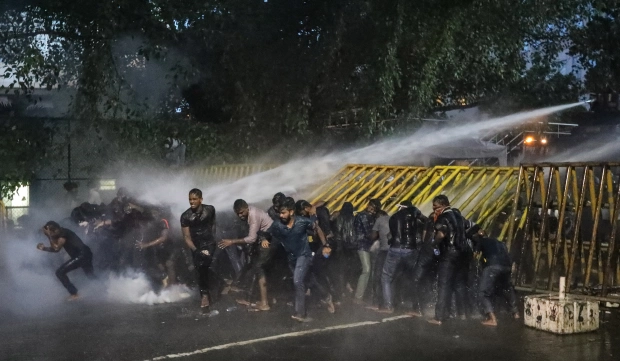 Outside, the building barricades were overturned and a black flag was hoisted on a pole.
Security staff tried to stop demonstrators but they were overwhelmed when the hoard pushed through fences, ran across the lawns and entered the building.
At least 34 people including two police officers were wounded in scuffles.
By AFP/The Sun