The Prime Minister of Uganda, Rt Hon Nabbanja Robinah, has advised the people of Busoga to stop relying on sugar cane growing as the only income-generating activity but also embrace growing fast-maturing foods like vegetables and fruits.
Nabbanja made the remarks while in Bugweri district at the invitation of Uganda's Ambassador to the United Arab Emirates (UAE), Kibedi Zaake.
Nabbanja told farmers that land has become scarce and now people must start intensive farming to meet the current demands.
"Those with less than 4 acres of land should not grow sugarcane but grow high-value crops such as onions, Hass avocado, grow vegetables, engage in piggery, poultry and zero-grazing to increase on their household income," she said.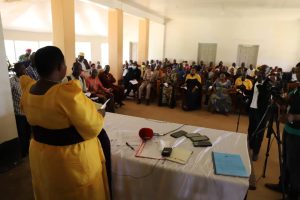 The Third Deputy Prime Minister, Rukia Nakadama, urged the government to solve the problem of compensating locals who have been affected by the ongoing mining of vermiculite in Makuttu sub-county.
Nakadama said the majority of families in the two sub-counties were asked three years ago to vacate their homes to pave way for the extraction of the mineral but have never been compensated by the government.
*Meanwhile, Nabbanja also visited several groups of women and youths in the area* . To do what?
She later presided over a fundraising drive for the construction of a church at St. Paul Buwoya COU where over Shs20m was realized in cash and pledges.
The Prime Minister donated over Shs10m and pledged to support them with iron sheets for roofing.
She paid a courtesy visit to the widow of the late Alhaji Kirunda Kivejinja, paid her respects to the late and discussed a number of issues.