Tanzania President, Her Excellency Samia Suluhu Hassan, has departed after a two-day State visit to Uganda.
Suluhu was is in Uganda at the invitation of President Yoweri Kaguta Museveni.
The purpose of her visit was to further strengthen the excellent historical and fraternal relations between the Republic of Uganda and the United Republic of Tanzania.
Later, the two Presidents Museveni and Suluhu held a tète a tète to review areas of cooperation for the benefit of the two sisterly countries.
A number of agreements and resolutions were reached, among these being; exploitation of the pathogenic economy, specifically collaboration on the development of vaccines between the two countries.
They also agreed that the United Republic of Tanzania will buy Anti-Retroviral (ARVs) Drugs from Uganda.
They also agreed that Tanzania shall charge 10 Dollars per 100 Kilometers per truck from Mutukula to Dar es Salaam starting Financial Year 2022/2023 effective 1st July 2022.
It was further agreed that Uganda shall supply 10,000 tonnes to cover the sugar gap in the United Republic of Tanzania.
On education, it was agreed that Uganda shall identify a sister school in the Republic of Uganda to partner with the school in the United Republic of Tanzania, Nyabirenzi, Chato, among others.
President Suluhu later addressed Business Executives and Policy makers led by the Private Sector Foundation of Uganda.
The meeting envisaged at a Business dialogue with the view of abolishing tariff and non-tariff barriers that frustrate the flow of business and employment opportunities of populations of the two countries.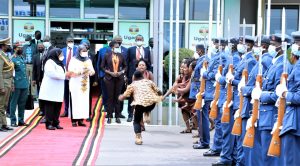 On Wednesday afternoon, Suluhu was escorted by government officials to Entebbe International Airport where she boarded a plane back home.