Charles III and his wife, Camilla, have been crowned king and queen of the United Kingdom and the other Commonwealth realms.
The two took a coronation oath Saturday 6 May 2023, at Westminster Abbey in London.
𝐓𝐡𝐞 𝐂𝐫𝐨𝐰𝐧𝐢𝐧𝐠 𝐨𝐟 𝐓𝐡𝐞 𝐐𝐮𝐞𝐞𝐧
Her Majesty Camilla was crowned with Queen Mary's Crown.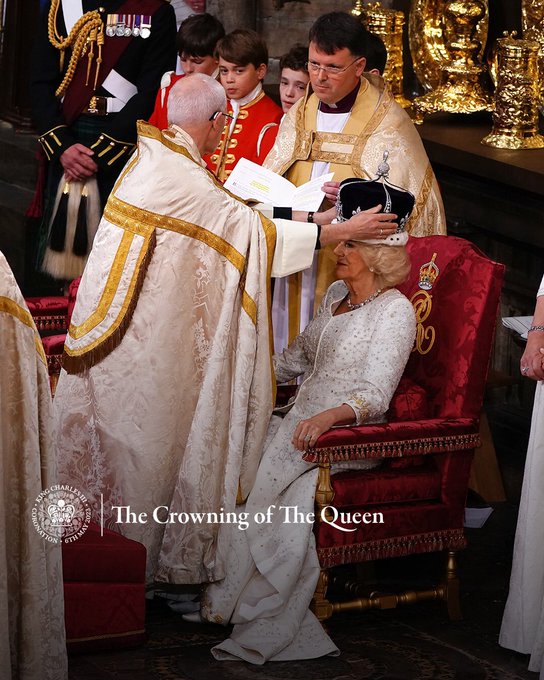 Her Majesty Queen Camilla, formerly Her Royal Highness The Duchess of Cornwall, will support The King, in carrying out his work and duties.
She also undertakes public engagements on behalf of the charities that she supports.
The Queen has become the Patron or President of over 90 charities.
The Queen's charity work is varied but several themes prevail health and well-being, promoting literacy, the arts, animal welfare and supporting survivors of rape and sexual assault.
𝐓𝐡𝐞 𝐂𝐫𝐨𝐰𝐧𝐢𝐧𝐠 𝐨𝐟 𝐓𝐡𝐞 𝐊𝐢𝐧𝐠
The Archbishop of Canterbury placed St Edward's Crown on The King's anointed head. The clergy, congregation and choir all cry 'God Save The King'.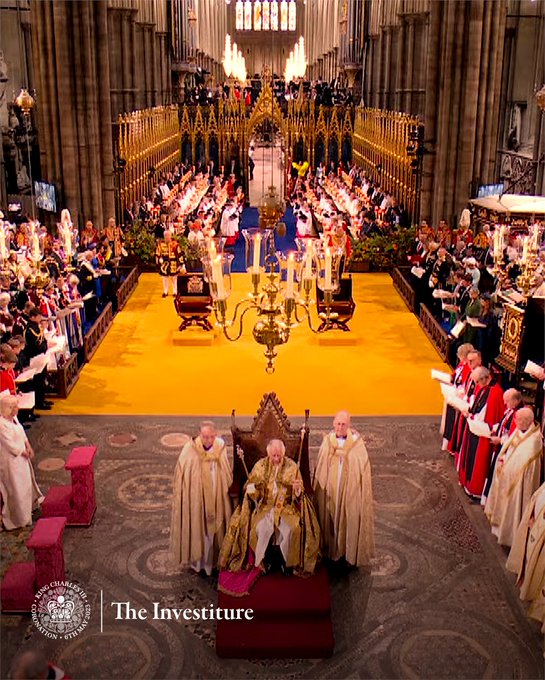 𝐓𝐡𝐞 𝐈𝐧𝐯𝐞𝐬𝐭𝐢𝐭𝐮𝐫𝐞
The King was dressed in symbolic 'vestments', and presented with items of Regalia, each a visible reminder of his role and his responsibility to God.
These include The Supertunica: a coat of gold silk reflecting the splendour of Christ, The Armills: gold bracelets representing sincerity and wisdom, The Sovereign's Orb symbolising the Christian world, The Sovereign's Sceptre with a Dove to represent The King's spiritual role and The Sovereign's Sceptre with Cross to represent His Majesty's worldly power.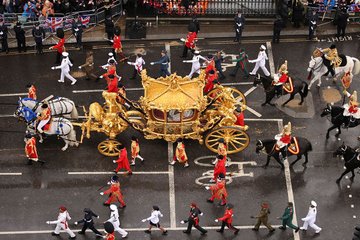 𝐇𝐨𝐦𝐚𝐠𝐞 𝐟𝐫𝐨𝐦 𝐓𝐡𝐞 𝐏𝐫𝐢𝐧𝐜𝐞 𝐨𝐟 𝐖𝐚𝐥𝐞𝐬
The King received 'Homage' (a promise of allegiance and faithfulness), from The Prince of Wales on behalf of The Royal Family.
Westminster Abbey bell ringers rang a full peal of Cambridge Surprise Royal, which will last more than three hours.
Gun salutes were fired out across the nation to celebrate the coronation of Their Majesties The King and The Queen Consort.
At the moment the Crown was placed on the Head of The King in Westminster Abbey, The King's Troop Royal Horse Artillery fired a six Gun Salvo on Horse Guards Parade.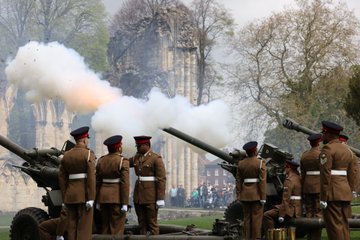 After the service, the newly-crowned King and Queen returned to Buckingham Palace in the Gold State Coach with other members of the Royal Family.
On a scale not seen on the streets of London for 70 years, the coronation procession made its way from Westminster Abbey to Buckingham Palace.