Fire Base Vice President, Bukeni Ali alias Nubian Li, has wedded his long-time girlfriend, Gloria Mutoni Shiko.
The wedding happened at Kibuli Mosque.
Nubian Li's singing partner and National Unity Platform president, Robert Kyagulanyi alias Bobi Wine and wife, Barbra Itungo were Best man and Matron respectively.
The couple (Nubian and Mutoni) has spent 14 years together, they are blessed with three kids.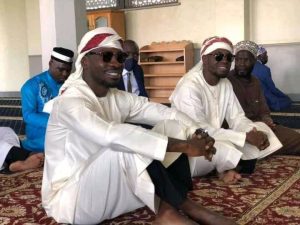 Mutoni, is the LC3 Chair of Kyanja Parish.
Mutoni said that they met with Nubian while she was still at campus.
"I was staying at a hostel along Sir Apollo and he had a friend there I was in my second year by then… whenever he visited his friend we would chat, We became friends and friendship birthed other things." she revealed.
Last week, she introduced Nubian to her parents in Kampala.
Mutoni is an elder sister to rapper Fefe Busi.
After, their wedding, Nubian said, "'Olwaleero' today for better for worse."
Mutoni said, "Never in a million years did I think that I would have a perfect man standing besides me, supporting all ma silly ways thanks for showing mi a Perfect marriage."
In his congratulatory message, Bobi wine said, "Congratulations my brother and friend Nubian li and your beautiful wife upon this special day."
He added, "May Allah continue blessing and protecting you and may he keep you together for ever. Welcome to the club bro."
Bobi's wife Barbie said, "May Allah bless you both, and gather you together in goodness."