Ruling National Resistance Movement (NRM) is set to embark on nationwide consultations in regard to the ongoing heated political debate about the Presidential Age Limit amendment. The NRM which endorsed the Bill seeking to repeal the age 35 and 75 constitutional age caps for one to be President will use the consultative meetings with Ugandans to further popularize their position.
All the party organs including the Parliamentary Caucus, National Executive Committee (NEC) and the top most decision making organ Central Executive Committee (CEC) have all recently reached a consensus to amend the constitution which they regard as "discriminatory" in age.
According to a statement issued by Rogers Mulindwa, the NRM Communications Officer, the consultations will start on November 6 and last a period of a week spearheaded by party cadres.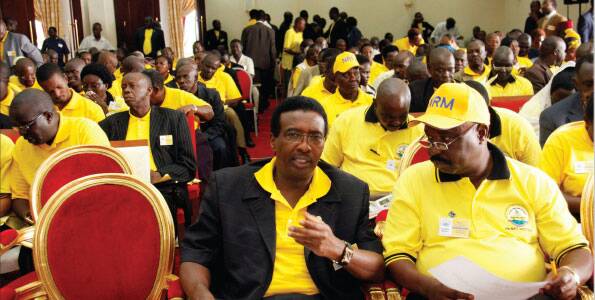 "The National Party Chairperson Gen Yoweri Kaguta Museveni has already deployed his senior cadres to take lead in the exercise that will last not more than seven working days," the statement read.
The various NRM cadres will be deployed in different sub regions.
NRM's first National Vice Chairperson Al-Hajji Moses Kigongo will traverse the Greater Masaka sub region while the Deputy Secretary General Richard Todwong will be in charge of Acholi.
The Kampala team will be led by Rose Namayanja, Godfrey Nyakana and Dr. Hassan Galiwango, and Prime Minister Ruhakana Rugunda will take on Kigezi subregion.
This round of consultations will reinforce the already ongoing similar meetings by NRM Members of Parliament in their respective constituencies.
"The Party Secretariat in Kampala has already dispatched off its advance teams to different Sub Regions to lay ground for the arrival of the senior party officials," Mulindwa said in the statement.
Others include;
Greater Mubende – Ruth Nankabirwa
Greater Mpigi – Mathias Kasamba.
West Nile – Hudu Oleru and Hajji Nasur Gaddafi.
Lango – Sam Engola and Lydia Wanyoto.
Karamoja – Simon Peter Aleper and Gabriel Kato.
Busoga – Ali Kirunda Kivejinja and Milton Muwuma.
Bukedi – Mike Mukula.
Sebei and Elgon – Dominic Gidudu.
Teso – Dr. Kenneth Omona.
Bunyoro – Kahinda Otafire and Oscar Kihika.
Rwenzori – Matayo Kyaligonza and Dr. Robert Rukaari.
Ankole – Maj Gen Jim Muhwezi and James Tweheyo.