Democratic Party (DP) Party President Norbert Mao has said the Speaker of Parliament Rt Hon. Jacob Oulanyah is very sick.
The Speaker has been admitted to a Seattle facility in Washington since last month.
Mao this week flew to the U.S. to visit Rt Hon. Oulanyah together with the Deputy Speaker Rt Hon. Anitah Among, the Chief Justice Alphonse Owiny-Dollo, and the Speaker's brother Francis Emuna.
"I'm with the CJ, the D/Speaker, the Health Minister, and the Speaker's brother in Seattle where the Speaker is hospitalized. A man who is very ill deserves our prayers," Mao tweeted on Friday, March 18, 2022.
He added: "Above all let's respect his privacy and that of his family. The Deputy Speaker will soon issue a statement. It is well!"
Many Ugandans have taken to Twitter to wish the Speaker a quick recovery.
Earlier, Chris Obore, Parliament's Director for Communications said the Deputy Speaker was traveling to see her boss, adding that "she is the only one to inform MPs and public like she did when he was taken to the U.S."
He asked Ugandans to ignore speculation.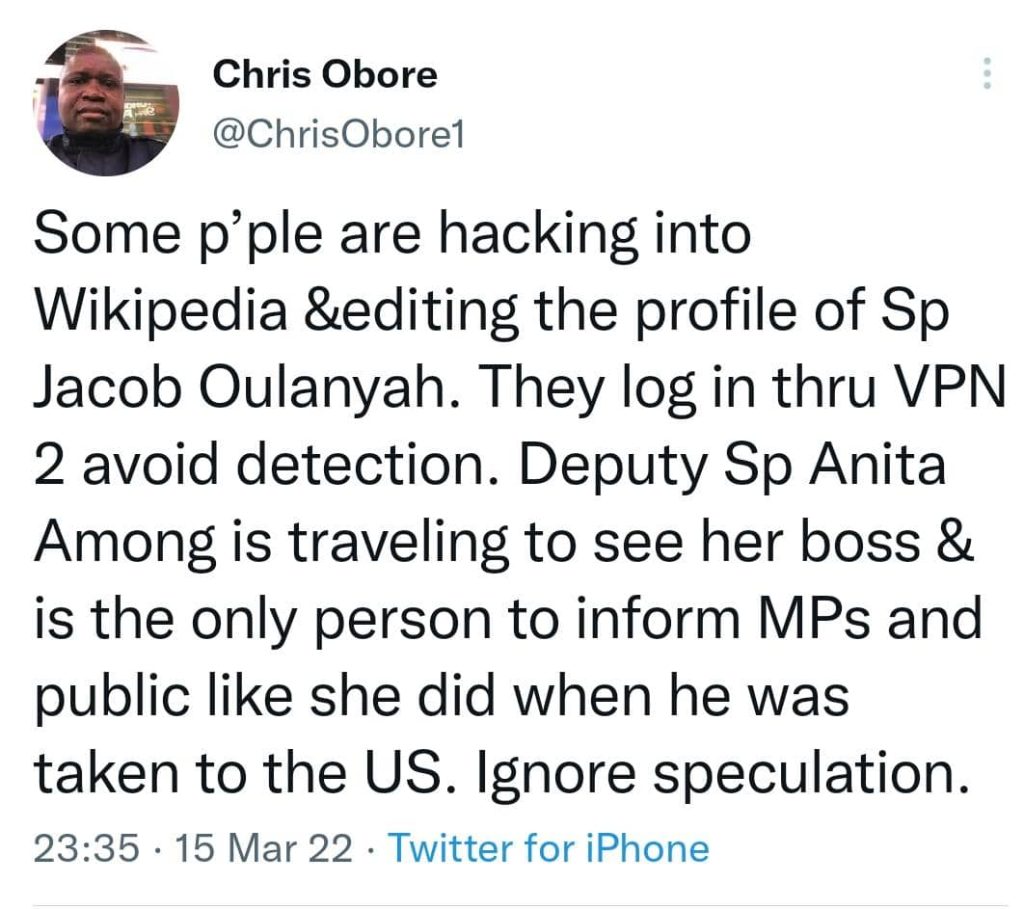 Obore called out those who had edited the Speaker's Wikipedia.
Mao recently declared a two-year 'war' against insults on social media and castigated those who declare others dead.
He has also been instrumental in calling for a return to humanity as well as raising the bar of discourse on social media.
When the Speaker first left for treatment abroad, several people took to social media to declare him dead.
Recently, the minister for Information and ICT Chris Baryomunsi said the government would take action against those who use social media to declare the Speaker dead.