Government has commended Makerere University and the National Agriculture Research Organization (NARO) for the role they are playing in the development of agricultural research and education.
"Thank you Makerere University and NARO, for the roles you are playing, at the forefront of Agriculture Research and Education, but also helping us to take a lead in producing and cutting the age of innovation," Robinah Nabbanja, the Prime Minister of the Republic of Uganda, told scientists during the third joint NARO-MAK Scientific Conference held in Munyonyo.
Nabbanja further pledged government's commitment to funding research that is aligned with national development priorities.
"I wish to reassure you that the government of Uganda under the wise leadership of president Yoweri Museveni, will continue supporting you and research in this country," she said at the Conference under the theme, "Innovations for Enhancing Productivity & Agro-Industrialization".
She added: "Government will give institutions carrying out scientific research and innovation. This will help us to avoid the fake seeds that come into this country. It will also help us to reduce the cost of seeds. The farmers will get the seeds at a cheaper price. And they will get quality seed manufactured by you, the scientists I'm aware that NARO, has been so innovative you have produced enough seeds we are aware of the good job you are doing."
Commenting on the workshop, Nabbanja said such proceedings and workshops help in popularizing ideas, and innovations.
The three-day (14-16 March) conference was introduced in 2018 as a platform for evidence-based dialogue on practical issues in agriculture. It has a special focus on innovations for agro-industrialization.
The state Minister for Agriculture, Animal Industry and Fisheries, (MAAIF), Bright Rwamirama, said the partnership between NARO and Makerere should look at the adaption or uptake of the new technologies to increase agriculture production and productivity.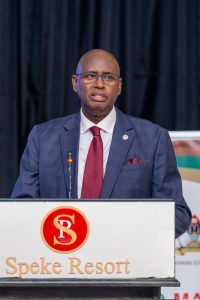 Rwamirama also encouraged the two entities to continue strengthening their partnership and bring on board other new universities, especially those with faculties or colleges of agriculture to widen the scope.
"Makerere has been directly contributing to improving farmers' welfare through the production of six drought and disease-resistant, high-yielding varieties of soybeans. Introducing 24 new sweet potato varieties, among others, we value the joint contribution of NARO and Makerere University to the generation of improved varieties, breeds and other production technologies and professional human capital development for the agricultural sector," he said.
"NARO has played and continues to play a vital role by conducting research in all aspects of agriculture, including crop-livestock, Forestry Research Institute study fisheries, and cross-cutting areas through 16 public agricultural research institutes distributed throughout the country. I particularly commend NARO for the various research efforts especially the development and promotion of 100 resilient crop varieties that have been commercialized at the inroads in the development of livestock vaccine, which will greatly contribute to the improvement of milk production in the country."
Meanwhile, Dr. Ambrose Agona, the Director General of NARO, said agro-industrialisation has the potential to bolster a range of ancillary services and supporting activities in the secondary and tertiary sectors.
He added that this enables product development, differentiation, diversification and intensification thus creating employment opportunities, increasing incomes, food security and nutrition that promote a healthier and more productive Workforce.
Speaking at the same event, Makerere University, Vice Chancellor Barnabas Nawangwe, commended the joint research efforts by Makerere and NARO Uganda.
Nawangwe noted that there is a need for innovativeness if the institutions are to achieve the desired transformation.
He noted that Agriculture is key for socio-economic transformation, however, the sector remains crippled due to several challenges including climate change, inappropriate seed systems, production practices, pests & diseases and post-harvest issues.
"As Makerere and particularly the College of Agriculture and Environmental Sciences, we are doing quite a bit of research to address these issues of climate change. come up with varieties of plants that can resist drought or that can thrive in all conditions. You will be seeing a lot of new varieties of crops and soya beans, sorghum and others, which first of all, the productivity is increasing. We are addressing issues of positive post-harvest handling. We are doing a lot of research in the area to improve productivity."
Nawangwe said that the conference is addressing innovation for growing industrialization and productivity.