President Yoweri Museveni has appealed to investors in Dubai to tap into the growing market within the East African Community and Africa, asking them to consider doing business in Uganda. He told a group of investors that unlike Western markets, Africa's demand was growing largely due to underconsumption which makes it a viable hub for business.
Museveni said that the regional blocs in which Uganda is a member have a combined population of 600 million people, enough to create a significant market.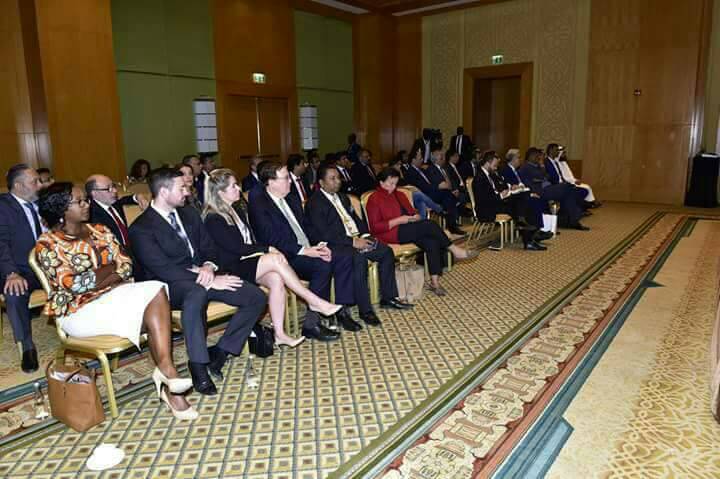 The President who is currently in the United Arab Emirates (UAE) for a three-day working visit met with a group of investors at his residence at the Ritz Carlton Hotel in Dubai on Wednesday.
The group included CEOs of leading companies including America's Business Council based in Dubai, Emerson with interest in Oil and Gas, Ernest and Young, Norton Rose Fulbright among others.
He pointed out that Uganda has a conducive environment for business largely favoured by the prevailing peace and stability. This, Museveni said presents great investment opportunities in addition to opening up businesses to the rest of the continent.
"Since you are business people, we must be talking about profits. When you talk of Uganda and Africa, you are talking about peace as an enabling environment; which we have," he told the investors.
"We have raw materials, and have a population of 40 million people that is a market. And if we talk of integration we have a four-tier market," the President added.
He said the four-tier market includes that of Uganda, East Africa, COMESA with a combined market of 600million people and the whole of Africa with a market of 1.3 billion people.
"In Africa, the demand is big and growing because we have been under-consuming while the rest of the world the demand is falling because they have been over consuming," he said
President Museveni encouraged them to invest in Uganda citing a number of policy incentives such as tax holidays, VAT incentives among others.
"There are plenty of raw materials, minerals, tourism and so on, when you invest in Uganda you have access to all these" he added.
"I don't have to bother investors with taxes, what I want is for them to invest, use our raw materials, create jobs, add value and promote exports," he said.
The business group expressed interests in investing in Uganda especially in areas of Oil and Gas, Agro processing, Tourism among others.
Museveni was accompanied by Energy Minister Irene Muloni, that of Tourism Ephraim Kamuntu, State Minister for Investment and Privatization, Evelyn Anite and Ambassador Nimisha Madhvani among others.