President Filipe Jacinto Nyusi of the Republic of Mozambique arrived at State House Entebbe Wednesday afternoon for State Ceremonies.
The visiting President of Mozambique was treated by a 21-gun salute and fine Uganda culture, according to Senior Press Secretary Lindah Nabusayi.
President Nyusi paused to honor flags as he inspected the parade in his honor at State House Entebbe.
Nyusi and First Lady H.E. Dr. Isaura Goncalo Ferrao Nyusi arrived this morning for a three-day State visit from 27th–29th April 2022.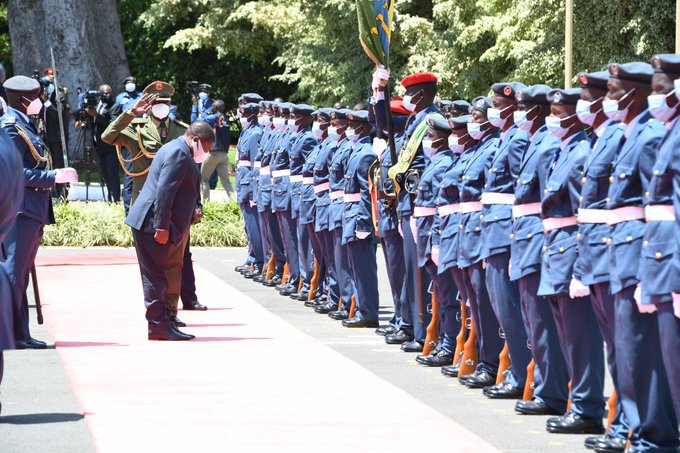 The main purpose of this visit will be to further bolster the excellent bilateral relations between the two countries.
Museveni and Nyusi later discussed ways of strengthening and consolidating bilateral relations for the mutual benefit of both Uganda and Mozambique.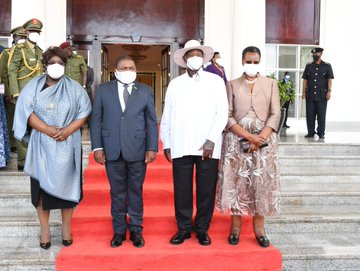 "We held bilateral talks on areas of trade, tourism, and agriculture among other areas of mutual interest," Museveni said after the meeting.
I received H.E Filipe Jacinto Nyusi, the President of the Republic of Mozambique and The First Lady, H.E Isaura Nyusi at State House Entebbe. We held bilateral talks on areas of trade, tourism, and agriculture among other areas of mutual interest. pic.twitter.com/vVX7CiMNij

— Yoweri K Museveni (@KagutaMuseveni) April 27, 2022