The warring factions in the long South Sudanese civil conflict have signed an agreement that will see President Salva Kiir and rebel leader, Riek Machar share power.
The deal was signed by President Kiir and Machar in neighboring Sudan on Sunday and was witnessed by Sudanese President, Omar-al-Bashir, Uganda's President Yoweri Museveni and Kenya's President Uhuru Kenyatta.
As part of the agreement, Machar will have to retain his former position in government as Vice President along with four other Vice Presidents.
Kiir's side will take 20 slots in the new 35-member government, while Machar's SPLM-IO and other smaller opposition groups will take the rest.
Kiir was confident that unlike the previous agreements that have been signed only to be violated later, this particular one will work out since nobody forced it on the conflicting parties.
"This agreement will not collapse because the people of South Sudan have now agreed that they must make peace among themselves," Dr Machar is quoted by Reuters as having said.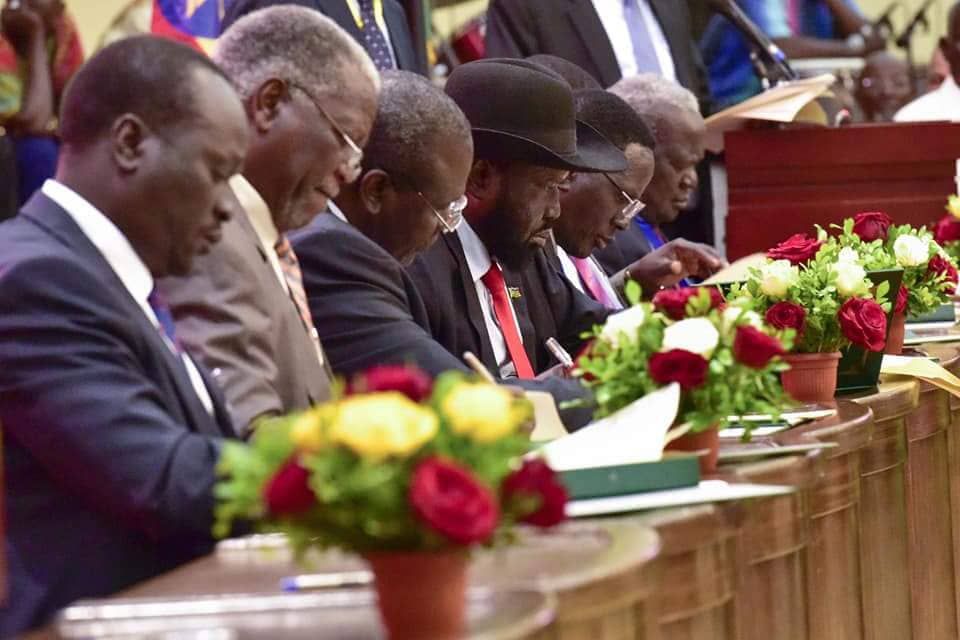 South Sudan which is Africa's youngest nation has been entangled in a five-year civil war which has killed tens of thousands and displaced millions. The conflict has been fuelled by divisions between President Kiir's Dinka and Mr Machar's Nuer ethnic groups.
President Yoweri Museveni urged parties in the agreement to honour Sunday's deal and not to use it to prepare for war.
"As a guarantor to the agreement, it is my hope that this is the last pact we are signing and that the respective parties are serious and they don't use the ceasefire as a tactical instrument of preparing for war," Museveni wrote in a statement on his social media.
Museveni asked that those involved in the South Sudan war to reflect on whether it was a just war, warning against what he called "political opportunism".
"As we sign this agreement, we must reflect deeply on whether it was a just war. We are congratulating ourselves over many dead bodies in South Sudan over the last four years," he said.
"This is not good. All the actors in this war must ask whether it was a just war".
He attributed the suffering that has rocked the African continent for the last so many years to politics driven by opportunism, which has cost Africa development.
"Opportunism that takes advantage of identity. So much time lost, development stalled because of identity. People fighting because they are Muslims or Christians, Shia or Sunni. A lot of rubbish. We should be bold and stop being diplomatic about this," Museveni added.
He urged leaders to focus more on working for the fulfillment of their people's interests like peace, health, education and creating conducive environment to do business.
In addition, President Museveni proposed that political disagreements be settled using an electoral process that is fair. That way, he said, the population gets to arbitrate and choose whose argument they buy.
He took a swipe at the international community that had intended to sideline Uganda and Sudan from the process of brokering peace in South Sudan which he said was wrong.
"In such a war, the first victims are the South Sudanese and then the neighbours. But these groups had said Uganda and Sudan must not be anywhere close to the South Sudan issue. Well, finally someone thought we could come in and help," Museveni said.
Uganda currently hosts over one million refugees from South Sudan majority of whom fled after the war broke out. They make up the majority of Uganda's slightly over 1.4 million refugees.