President Yoweri Kaguta Museveni has appealed to Ugandans especially politicians and public servants not to frustrate investors since they are very crucial in Uganda's progressive Industrialisation agenda.
"My appeal to Ugandans especially politicians and the public servants is to understand the role of industrialization but also understand the role of investors; don't waste their time," President Museveni asserted.
The President who was in the company of the First Lady and Minister of Education and Sports, Maama Janet Museveni, made the remarks while commissioning the new Tororo Cement vertical rolling mill plant in Tororo District.
He explained that once the investors are welcomed and supported, they will contribute a lot to the development of Uganda.
"Don't waste their time. Wasting their time is nonreligious, support them so that they move quickly because we have nothing to lose but everything to gain. This factory here is not in India but in Uganda, it is employing our people here, using our electricity, water, and even if he takes the profits away, it will be only 10 percent of the value of the earnings," Gen. Museveni noted.
The President further commended the Chairman of Tororo Cement Ltd, Mr. Hasmukh Kanji Patel and his team for their enormous contribution towards the economy of Uganda.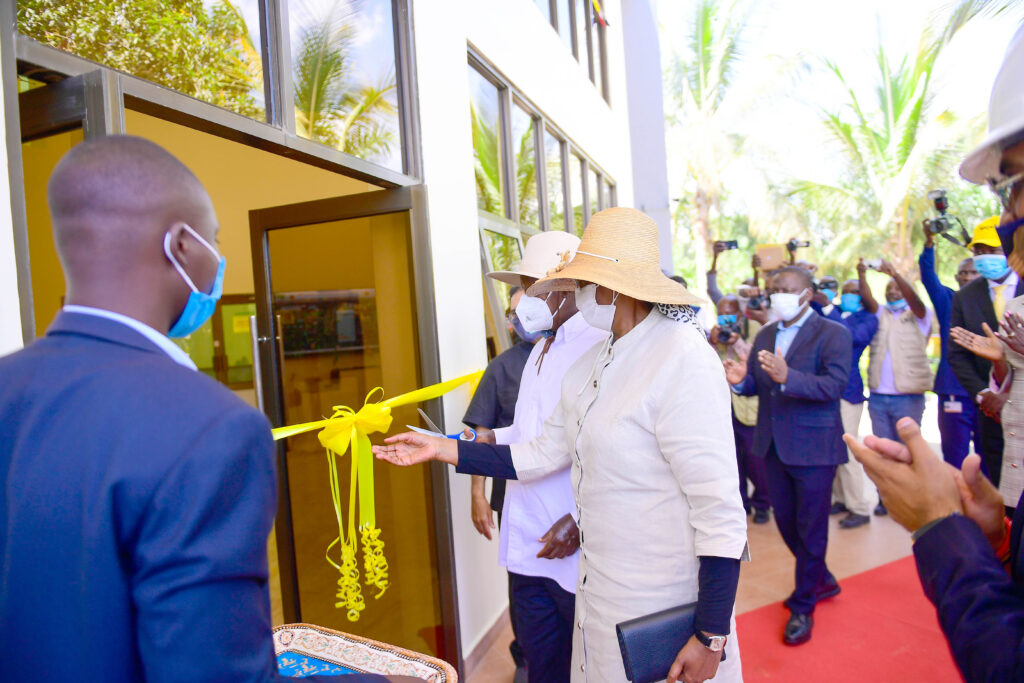 "That is why we had to go against people like Idi Amin who were ignorant and had chased away these Indians. Why chase the Indians yet they were doing better work than many indigenous Ugandans. You have heard what this industry is doing in contributing to our economy," he expounded.
The President also noted that although Tororo Cement Ltd is owned by an Indian, it's now part of Uganda's Gross Domestic Product (GDP).
"Ugandans should stop saying Indian factory, no this is not an Indian factory, these factories here are Ugandan factories regardless of who has built them. This is what GDP means. GDP is different from Gross National Product (GNP) which traces the wealth owned by citizens but all these powerful countries in the world are powerful because of bigger GDP for example the GDP of United States is 25 Trillion US dollars and much of that GDP is owned by Japanese, Arabs and so on but it gives the power to USA not to the countries of origin of the investors because this tax money is not going to India but coming to us," he emphasized.
"I'm very glad that Mr. Patel came here, and we privatised the other government factory and now he has expanded it. They are going to build another factory in Moroto to do clinker there. Clinker is the primary raw material for cement."
President Museveni also pledged that the government was going to distribute electricity to Katikekire in Moroto and give Tororo Cement Ltd mining rights for limestone to enable them swiftly do business in the area.
On the other hand, President Museveni disclosed that the problem of Uganda and Africa as a whole is that years ago they missed the "bus of history" and this has made the continent to lag behind economically compared to other continents like Europe.
"When the bus of history was moving, Africa stayed on the stage, and it left them. This is because the world has been moving for the last 600 years," he stressed.
The President however stated that if Ugandans want to catch up with the bus of history, they have to do in a short time what Europe did in about 500 years.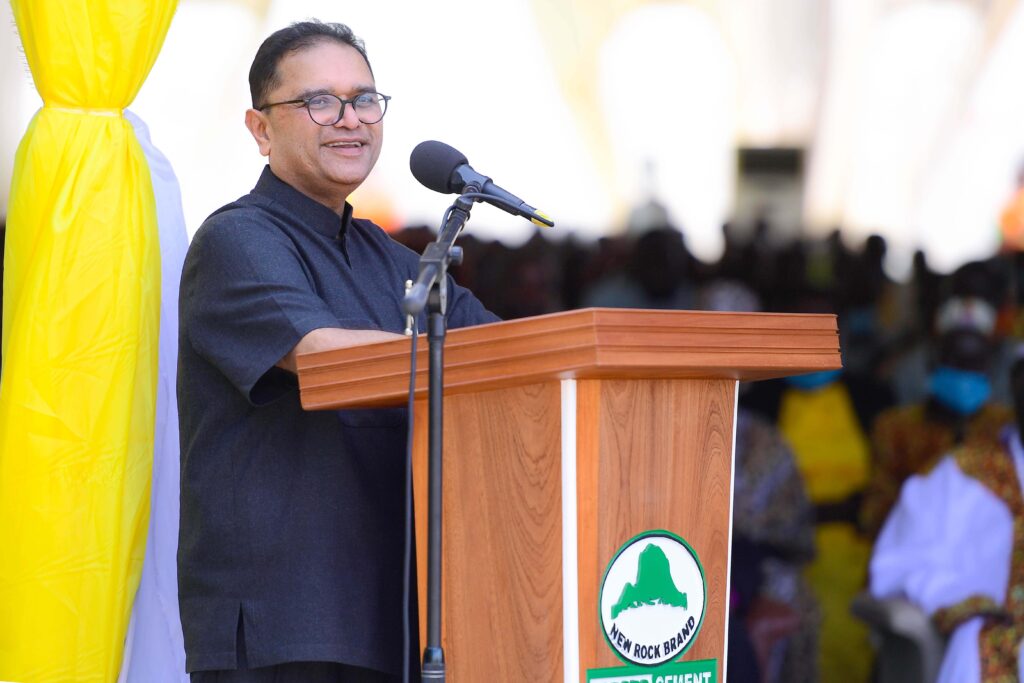 "As NRM, we told you and put it in writing in all documents that there are four sectors where you can do this. Sector number one is agriculture. With agriculture, stop working for the stomach only. Work for the stomach but also for the pocket and do so with "ekibaro" (calculation). The second sector are the factories/ industries like this one here.
Processing what is produced by agriculture, processing minerals, forest products, processing what is in freshwater bodies like the fish. The third sector is services and the fourth one, ICT," the President said.
To the people of Bukedi, the President reiterated his call to them to embrace the four-acre model to fight poverty.
"I told you that since many families have fragmented land, don't just do agriculture aimlessly without "ekibaro". If you have got four acres, I advise you on the four-acre plan; on one acre plant coffee, second plant fruits like mangoes, oranges and pineapples, third acre put pasture for zero grazing cows and the fourth acre you put food like cassava. And if you are near a swamp do fish farming, meanwhile in the backyard you put poultry for eggs and also for those who are not Muslims or traditional Banyankore you put pigs," he said.
"That is what we advised you but Ugandans don't listen. Many of them are determined to remain in poverty. The Bakedi have cultivated but they have done so without "ekibaro" because I see half an acre of maize yet to get money from that crop you need like 100 acres. I'm going to come back and really we shall have to discuss this issue."
Additionally, the President also promised the people of Bukedi that the government will get part of its land in the subregion to set up an Industrial Park.
On her part, the First Lady Maama Janet Museveni thanked the owners of Tororo Cement Ltd for adding a brick to Uganda's development by investing heavily in the East African country.
"This is a significant contribution to the economic development of our people and the nation and I thank you for laying a brick on our homeland," Maama Janet commented.
She also thanked Chairman Patel and his team for giving back to the community through building and renovating schools and Churches across Uganda.
"I want to use this opportunity to thank Tororo Cement in a special way for remembering to give back to our community and I pray that God blesses you."
The Minister of Finance, Planning and Economic Development, Hon. Matia Kasaija also lauded the owners of Tororo Cement Ltd for joining the government's crusade of industrialising Uganda.
"This enterprise has created 1,500 direct jobs and 5,000 indirect jobs in the country," he said.
On the other hand, Chairman Patel thanked President Museveni for blessing and supporting them, an attribution that has enabled their business to succeed for the last 28 years.
"As an institution, we have just installed our 25 million US Dollar rolling milling plant which is the most sophisticated mill in East and Central Africa. It has got German technology and is producing 150 tonnes of clinker grinding per hour," Mr. Patel said.
By March next year with God's grace we would have installed a 300 tonne per hour clinker grinder. In total by March, we will be having a grinding capacity of 5 million tonnes per year. The sky is the limit. Within 5 years we shall be having a 5,000 tonne plant in Moroto which will be producing clinker so that we don't have to import the product from Kenya or any other country.
The function was also attended by the Minister of Science, Technology and Innovation, Hon. Monica Musenero, the Minister of Defence and Veteran Affairs, Hon. Vincent Bamulangaki Ssempijja, the Minister of State for Investment and Privatisation, Hon. Evelyn Anite, Members of Parliament, members of the diplomatic corps, religious and cultural leaders, among other officials.