The President of the Republic of Uganda and Commander-in-Chief of the Armed Forces, H.E. Gen Yoweri Kaguta Museveni, on Friday, September 2, commissioned 248 Officer Cadets of Intake 04/2022 at Uganda Military Academy in Kabamba, Mubende district.
He also officiated the graduation of 49 Officer Cadets of Intake 01/2019-22 who qualified with a Bachelor's Degree in Defence and Strategic Studies of Kabamba (BDSK).
While addressing the newly Commissioned Officers and Defence graduates, Museveni cited a Runyankore riddle loosely translated as, "Everybody has their unique knowledge; how does a chicken bring up its chicks without breasts."
He explained that this is how the NRM has been able to build a strong army with limited resources.
The President quoted the late Mwalimu Julius Nyerere's as having said, "for one to make good dough, they must wait for the water to boil to the required temperature".
"That is where the NRM succeeded, it doesn't engage in lies, it tells people the truth. You cut your hair according to the shape of your head," he advised.
He explained that between 1971 to 1986, he and his colleagues started an army without pay, saying the governments of the time were criminals paying criminals.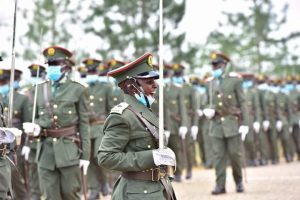 He quoted examples of recent retirees such as Brig Gen Omule, Late Gen Elly Tumwine and Gen Caleb Akandwanaho (Salim Saleh) who, with many other fighters, became soldiers without pay.
"All we needed was a gun, bullets for it and food; clothes were optional. A naked man could still shoot and kill."
He said it is only three years ago that government could raise the salary of the soldiers at the rank of Private to equate to that of a Primary school teacher. It had always been work with no pay, no barracks.
He excited the private soldiers when he mentioned that their monthly salaries would soon rise to between Shs 1m to Shs1.5 million.
President Museveni encouraged the graduates to be mindful of duty.
"Be eager to go and fight where duty calls. Don't be affected by the disease of "headquarterism," he warned.
Speaking at the same function, the Minister of Defence and Veteran Affairs, Hon Vincent Bamulangaki Ssempijja, thanked the President for starting UPDF from scratch to a formidable force with international acclaim, that is growing from strength to strength.
He also thanked the President for his visionary leadership that has revamped the economy of Uganda enabling recently retired General Officers to go home "with happy faces and a good package."
"The President has led the country from economic mess to a thriving, enviable country," noted the Defence minister.
He pointed out that the commissioning was Government's effort to ensure continuity and efficacy and implored graduates to remain committed and focused on the values of the UPDF.
He also reminded the President that the Ministry was keenly following his guidance to ensure that the National Defence College in Jinja is upgraded to university level with a forensic University under the MoDVA.
Ssempijja thanked the UPDF leadership for the cooperation that has always enabled them to collectively achieve their strategic goals.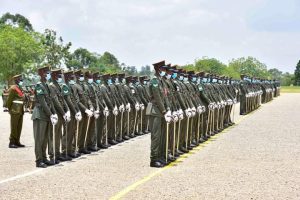 The Chief of Defence Forces, Gen Wilson Mbasu Mbadi, praised the President for continuously building a force that is guided by the gospel of Pan Africanism, nationalism, democracy and socio-economic transformation for the strategic security and unity of the African people.
"As a force, we have had successful Pan African interventions in the region and beyond. For example in Liberia, Equatorial Guinea, Somalia, South Sudan and recently in DRC," noted Gen Mbadi, adding that all this was because of a strong and disciplined force.
The CDF further applauded the President's strategic and visionary leadership that has made UPDF grow from scratch to a formidable force anchored on strong ccivil-militarycooperation, nationalism, patriotism and ideological awareness to achieve its mandate as enshrined in Article 209 of the constitution to create a conducive environment for social economic transformation.
To the newly Commissioned Professional Officers, the CDF encouraged them to exploit the acquired knowledge and skills to be better defenders of peace and stability in a resource-constrained environment.
"Place duty above personal desires, serve with dedication, honesty and truthfulness at all times," Gen Mbadi cautioned the Officers.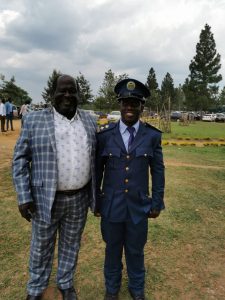 Flight Lieutenant George Washington, the son of Prof. Ogenga Latigo, former Leader of Opposition in Parliament, was among UPDF Officers commissioned by President Museveni in Kabamba on Friday. He is a Helicopter Pilot.
Prof. Latigo's presence was recognised by the MC, exciting the audience at the event.