Public Relations must be in the institutional strategic plan, PR guru Samuel Apedel aka Uncle Sam has said.
Apedel better known among his peers as "Uncle Sam" is the Public Relations Manager at National Water & Sewerage Corporation (NWSC).
He was speaking at a panel during a special brunch organized by the Chartered Institute of Public Relations (CIPR) Uganda Chapter at Hotel Africana in Kampala on Saturday.
According to Apedel, PR persons shouldn't be operated as a switch which is only activated when there is a crisis."
"As a PR practitioner, know your organization in and out. But also, do not pretend to be the subject matter expert. Ask experts and speak from an informed perspective," he said.
"As communicators, be humble but don't be shy," he advised, adding that Public Relations is a management function.
"PR practitioners should have a seat on the board. They should not be reduced to event managers plus buying newspapers for bosses."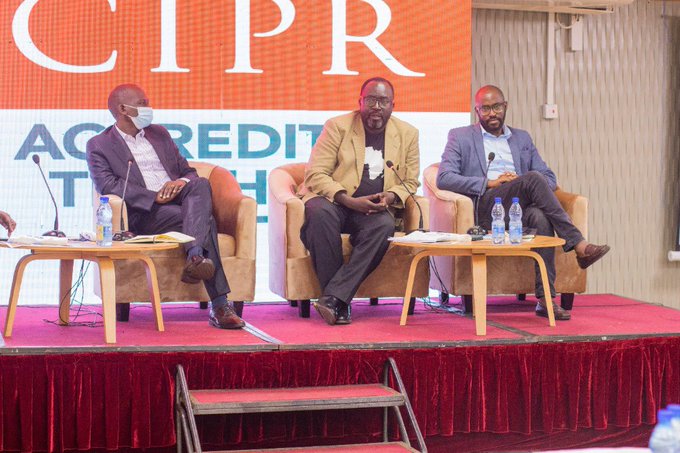 He said a PR practitioner needs to immerse public relations in the organization and attend senior management meetings to understand the direction of the organization.
"As a PR practitioner, know your organization in and out and always be in the broad room to know what's going on."
Apedel castigated those who have turned public relations about themselves and in the process, became what he termed "peacocks".
Peacocks are male peafowls known for displaying their tail plumage in a half-circle making it look more attractive and bigger. The proverb "as proud as a peacock" means having a very high opinion of oneself, filled with or showing excessive self-esteem.
"Most of the people attracted to public relations are peacocks. Public relations is not about you as an individual. It's about the organization you represent," Apedel pointed out.
"As PR practitioners, make the environment you work in a positive environment. Make the office where you are a positive environment where you are growing."
In his turn, Ian Rumanyika, the Head of External and Corporate Affairs at Uganda Baati Limited, confessed to having been tempted to conduct himself as a peacock.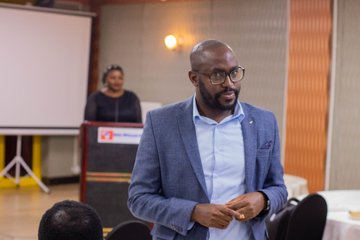 "I made a mistake to be a peacock. Life teaches lessons. We need to take out place strategic communicators," said Rumanyika who treats Uncle Sam as his mentor.
When in boardrooms, please reason at the strategic level, he advised PR practitioners.
"Understand the board and guide management to reason in a direction that brings the mind of the business to fruition. As strategic communicators, one of our key roles is brand reputation. Let's perfect our game if we are to make it to the big positions," he noted, adding:
"Most PR professionals do not want to work with big data. You must be able to understand the business. The time to stop at press releases is over."
According to Rumanyika, strategic communicators are custodians of the institution's reputation.
"To avoid cultural shock when transitioning from newsroom to PR, you need mentorship from people that have been there. You also need professional training," he advised journalists.
During the event, Rumanyika who runs master classes under PR Fundi, was awarded for his contribution to building the PR profession in Uganda.
Speaking at the same panel, Tadeo Atuhura, the Communication Manager-Accelerating Epidemic Control Program, said research helps Communications and PR practitioners to influence decisions.
"Invest in research to inform funding as well. As a PR person, you need to offer value. Money assigned for PR with agencies is less than UGX10m," Atuhura pointed out.
"As a public relations specialist, you need to add value to be invited to the boardroom. You need to have the brains to sit in the boardroom. You need to bring credible value to the boardroom. Discuss trends and strategic objectives. If you are going to do a PR job, you need to be able to know what solution you are providing to the hiring organization," he added.
Speaking at the event, Public Relations Associations of Uganda (PRAU) President, Stephen Mwanga, challenged PR practitioners to be the guiding light of their organizations.
"When you get hired, you need to guide your organization. You are hired for a reason and make sure you deliver," he stated.
National Medical Stores Spokesperson, Sheila Nduhukire, challenged journalists who wish to join the PR professional to go with an open mind.
"You can not do PR just because you are a journalist. Crossing from the newsroom to journalism needs one to have an open mind."
During the event, CIPR in partnership with the University of Nairobi also celebrated its second anniversary.
In the past year alone, more than 130 international students from 32 countries have earned the CIPR qualification, learning from each other and passing on their knowledge and experience.