The Minister of State for Trade Harriet Ntabazi, has urged Small and Medium enterprises to improve on the quality of their goods If they are to compete both locally and internationally.
Ntabazi said on top of the 40 million local market, government in conjunction with the private sector is engaging neighboring countries like DR Congo, South Sudan among others to create investment and trade avenues.
"Currently there is the local market, the East African market with DR Congo as a fresh Virgin market, the COMESA Market and the AfCFTA, but all these markets need consistent supply of quality goods," she said.
Ntabazi advised SMEs to formalize there businesses, make joint ventures, and hit the competitive market with quality goods.
She made the remarks at the opening of the Small and Medium Enterprises week running at the UMA show grounds.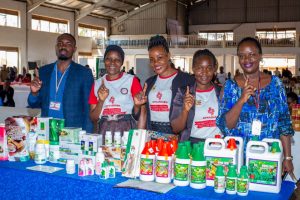 John Walugembe the Executive Director of the Federation of Small and Medium-Sized Enterprises-Uganda, said they are advising SMEs on recovery from the Covid-19 pandemic, but also on issues to do with markets and formalization.
He said government has shown good will by putting in place funds for the recovery of SMEs, like the money under UDB for equity financing, among others.
Walugembe noted that there's room to discuss and focus on what can be done to improve, resolve challenges affecting MSMEs.
Most of the SMEs, requested that the Ministry of Trade and that of Finance look  into lending rates, access to finance, since most of the SMEs are finding it difficult to get loans due to the requirements and bureaucracies.
The MSME Expo is organized by the Federation of Small and Medium-Sized Enterprises-Uganda, in partnership with the Ministry of Trade, Industry and Cooperatives, CSBAG, SEATINI, Postbank, Bella Wine and Uganda Investment Authority.
The expo is celebrating the innovation and contribution of Micro, Small and Medium-sized Enterprises in Uganda to the country's economic development.