The Minister of State for Works and Transport, Musa Ecweru, has said the 39-year-old man who slapped him during Sunday mass at St. Michael Catholic Church in Wera Sub County in Amuria District, is reportedly mad.
"We have established his background information. We have confirmed that he was a mad man," the minister is quoted by Daily Monitor as saying.
"His madness attacks him occasionally and when he suffers, he is wild and violent," he added.
The incident happened while minister Ecweru who is also the Amuria County MP, was attending prayers when Michael Okurut, a resident of Wera, slapped him.
He had reportedly gone to deliver a tractor handed to Wera Catholic Parish by the Ministry of Agriculture.
According to his official Twitter handle, Agriculture minister Hon Frank K Tumwebaze, handed over a 75 HP tractor with its implements to the Parish Priest of Wera Catholic Parish in the presence of minister Ecweru.
"Thank you Hon Ecweru for guiding your people well. We are aggressively supporting all categories of farmers both small and big so as to fully commercialize agriculture and increase our country's collective agricultural yield," Tumwebaze said.
So, during a subsequent church service that minister Ecweru attended, Okurut quietly walked into the church building and went straight to the altar.
He knelt down and made the sign of the cross before approaching the unsuspecting minister who was busy giving a speech to the congregation.
Okurut went up to the minister, whispered something and then heavily slapped him on the ear.
He readied a second slap which the stunned minister, fortunately, blocked as his bodyguards rushed in to restrain Okurut.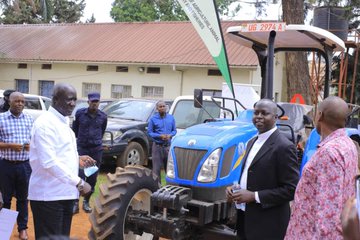 According to Oscar Ageca, the acting police spokesperson for East Kyoga, Okurut is being held at Wera police station pending investigations.
Social media erupts
Social media has since last night been awash with mixed reactions regarding the unfortunate incident.
Some claim Okurut was allegedly avenging Soroti Diocese churchmen injured in a May 2021 attack by Ecweru who was then the Minister of Disaster Preparedness.
According to the Bishop of Soroti Diocese, Rt. Rev. Kosea Odongo, minister Ecweru, assisted by his bodyguard identified as Juma Odiope, assaulted three clergymen, accusing them of encroaching on his land located at Wera Town Council.
Rev. Simon Peter Olato, the Parish Priest of Wera Church of Uganda and his two lay readers, Benjamin Otasono and Simon Peter Eriku of Aten and St. John churches, respectively were severely beaten and admitted to St. Peter's Medical Centre in Soroti City.
They were found planting cassava and tree seedlings in the land belonging to St. John CoU in Wera.
Rev. Olato told the media that the minister personally beat him and slapped the two lay readers before ordering his bodyguard Juma Odiope, to proceed and beat them with a metallic rod.
According to Rev. Olato, the Police in Wera Police Post declined to record the case and referred them to the Amuria Central Police Station.
The officer in charge, only identified as Oyugi reportedly said the matter was beyond his jurisdiction.
East Kyoga PRO Ageca claimed it was the clergy who allegedly attacked the minister when he attempted to inquire about the land.