The Public Relations Association of Uganda (PRAU) on Friday, April 29, 2022, held a National Public Relations Symposium at Hotel Africana, Kampala designed to bring together all PR Stakeholders to share their skills and deliberate on a number of issues pertaining to PR practice.
The main purpose was to lay a platform onto which all communication professionals and key PR stakeholders in Uganda would meet to dialogue on pertinent issues relating to the communication trade in Uganda; aimed at strengthening the communication profession in Uganda.
In his opening speech, Stephen Mwanga, the PRAU President, said the success of organizations is heavily hinged on how well their PR is handled.
"We are convinced that this symposium sets a clear path of where the industry needs to focus for us to further professionalize public relations practice in the country," he noted.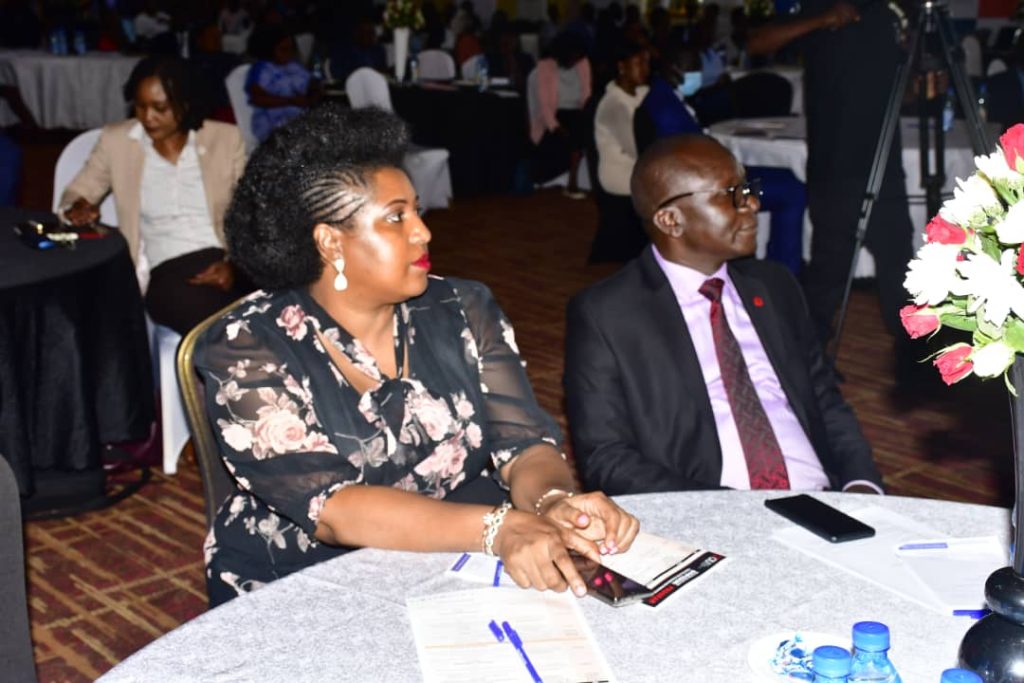 Fake news/social media
Mwanga reiterated that the PR industry requires an all-encompassing approach to discuss some of the challenges the PR industry continues to grapple with including dis/misinformation arising from the use of social media.
He added that the association is also in pursuit of statutory recognition to that effect.
According to Mwanga, the challenges affecting the profession include; fake news and infiltration of the profession by masqueraders, among others.
"The challenges facing the PR profession require a new approach hence the need for this symposium. We shall debate and find ways to tackle the challenges facing the PR industry using the PRAU Symposium," he said.
Mwanga also revealed that PRAU would later present a draft bill to parliament, commence PR trainings to bridge theory and practical gaps as well as embark on a research project looking at the "State of PR in Uganda" in conjunction with Capital One Group.
PRAU Patron Baryomunsi applauds "PRAU Bill"
The Minister of Information and ICT, Chris Baryomunsi, who is also PRAU's patron was the Chief Guest.
He thanked PRAU for having a positive gender balance towards female leadership participation, saying the science of women is that "God wired women differently".
"More boys than girls are born at birth, but women outlive men (life expectancy) thanks to God's divine intervention."
He noticed that PR also attracts more women than men which he said is a good thing.
According to Minister Baryomunsi, PR professionals need to see how technology changes affect their work, embrace it and be on top of the PR game.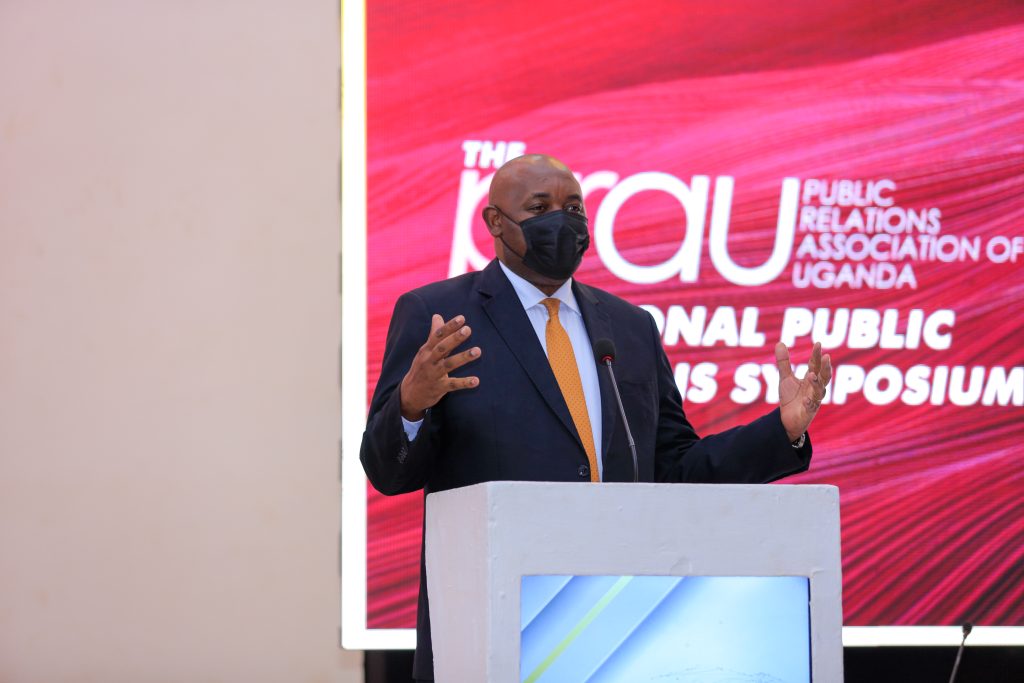 "Some people do not appreciate PR but PR has an important role to play in private and public sector. I pledge my support to making it more recognised/appreciated."
He remembered joining PRAU to launch their "Strategic Plan" during Sarah Kagingo's time as President. He recognised PRAU for being organised and having a clear plan, the basis of which several programmes are being executed.
He lauded Sarah Kagingo for being a pioneer of government digital communications when "she served as Special Assistant for Communication to H.E. President Museveni."
He applauded PRAU on the "PRAU Bill" and promised to support it in Parliament. "While #PRAUBill will be moved as a Private Members Bill – it should (and will) have the support of Government," he said.
"This government has done good work, but you find that only us in the offices know. That is why PR is very important to take this work to the communities," he said.
Panel: Environmental Social Governance (ESG) agenda
The first panel discussion moderated by Patrick Nyakahuma Kamara, a senior reporter and talk-show host at NTV, tackled how PR and marketing can elevate the sustainability and Environmental Social Governance (ESG) agenda.
On how PR and marketing can elevate the sustainability and ESG agenda, Umeme spokesperson Peter Kaujju said: "When it comes to ESG, I am looking at how we are playing our role as communicators in ensuring that we are actually advancing the ESG agenda."
He went on: "In everything that we do on a daily basis, we should be able to see and share with the communities how we are able to sustain what we have. How are we able to work with environmentalists to sustain what we have found?"
Stanbic Bank's Head of Sustainability, Cathy Akiteng Adengo, said: "ESG is your business strategy, whereas CSR/I (Corporate Social Responsibility/ Investment) is an enabler of giving back to the community without expecting rerun on investment."
Onapito Ekomoloit, the Legal & Corporate Affairs Director at Nile Breweries Limited, delivered a masterclass on the role of PR and Marketing in elevating sustainability and ESG Agenda.
"ESG and PR communications have a symbiotic relationship. There is no debate that despite being critical, environmental issues are boring creating the need for a PR spin to create excitement," he said.
"The world knows the doers and the talkers. If an organization, in reality, doesn't do the right things in terms of governance, social agenda and diversity, governance and fighting corruption, despite excellent PR they won't go anywhere," he pointed out, adding:
"Of course, for us in beer, we sell happiness and we are very passionate about what we do because we know that the drinkers are the most critical people in the world so if you don't do your ESG well then sales suffer. People associate with a brand they love."
The public has the right to know- Ramathan Ggoobi
Ramathan Ggoobi, the Permanent Secretary, Ministry of Finance, Planning and Economic Development and Secretary to the Treasury, called organizations to be awake to the value Public Relations can deliver towards their overall objectives.
Ggoobi mentioned that the importance of cohesion and synergy of this function heavily relies on inclusion of this function at the highest level (in the boardroom), so that PR is integrated into the decision-making process and execution.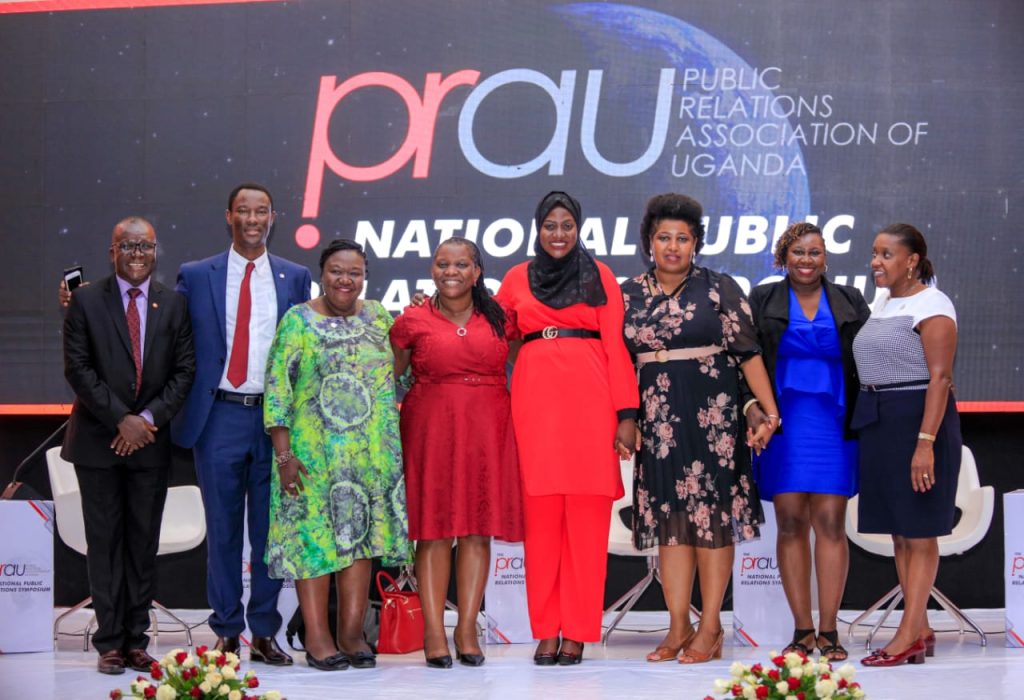 "Do we still get the truth & facts checked? Have fairness and impartiality to make sure stories are balanced and accountable when we get it wrong? Is fairness still relevant in the world today?" he wondered.
"Waiting to deal with bad press is a very poor strategy," he went on, adding that PR needs to advise their organisations on proactive, effective ways of communicating for their organisations.
"The role of PR is to help the organisations tell its story. As we demand fairness, let us all know that the public has the right to know."
He said the role of the PRO is not to stop the public from getting the information but to make sure the public gets it [the information] with facts and is able to decipher it.
"As PROs, it is your role to help organizations understand the editorial policies of media houses. Use your expertise to develop compelling communication strategies that positively enhance the visibility of a brand you represent," he concluded.
The event was graced by the Minister of ICT and National Guidance and PRAU Patron, Hon. Dr Chris Baryomunsi who was the Guest of Honor. The Symposium was attended by key players in the PR industry including; Yusuf Walusimbi, Brig. Gen. Felix Kulayigye, Julius Mucunguzi, Vianney Luggya, Hellen Nanteza, Sarah Kagingo, Jimmy Kiberu, among others.