Mogadishu — The new force commander for the African Union Transition Mission in Somalia has arrived in the country to take up his duties.
Lieutenant General Sam Okiding, arrived in the capital Mogadishu on Sunday and immediately got down to work.
He is from Uganda and succeeds Lt. Gen. Diomede Ndegeya from Burundi who completed his tour of duty late last year.
He was officially received at the ATMIS Force Headquarters by the Deputy Force Commander in charge of Operations and Plans, Maj. Gen. Marius Ngendabanka, and other senior military officers.
Before holding a series of closed-door briefings, he inspected a guard of honour from a contingent of Uganda Peoples Defence Forces (UPDF).
Lt. Gen. Okiding, who was immediately brought up to speed on the current security situation in the country, said his key priority would be to ensure a smooth transition of security responsibilities to Somali Security Forces (SSF) while consolidating the gains made.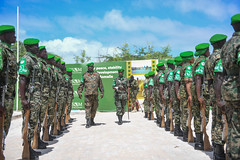 "The most important thing is to support the Somali security forces in accordance with the CONOPS (Concept of Operations), the Somali Transition Plan and the United Nations Security Council Resolutions (UNSCR) 2628 and 2670," the new Force Commander observed.
Lt. Gen. Okiding pledged to work closely with all stakeholders to implement the Mission's mandate of ensuring a smooth handover of security responsibilities to Somali Security Forces.
"All stakeholders will have to play a role in the transition process. My work is to give direction on the side of the military and I am confident that we shall all work together," he explained.
Lt. Gen. Okiding, brings a wealth of experience to the mission spanning over 40 years, having joined the Uganda military in 1980.
He is no stranger to Somalia, he previously served as the commander of Uganda troops in Somalia from November 2015 to January 2017.
Prior to his appointment as the ATMIS Force Commander, Lt. Gen. Okiding was the Deputy Commander of UPDF Land Forces.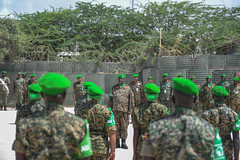 Additionally, he has served in several operations in the region, including in South Sudan, the Democratic Republic of Congo, and the Central African Republic.
A graduate in International Relations, Lt. Gen. Okiding has undertaken several military courses in peacekeeping operations, global terrorism, and International Humanitarian Law at national, regional, and international levels