The National Drug Authority (NDA) have arrested Jude Agaba, a lecturer at KIU Ishaka, over aiding counterfeiting of veterinary drugs.
The NDA public relations manager Abiaz Rwamwiri said Agaba was found with several fake academic documents for both animal and human health practitioners.
"We arrested Agaba Jude, a lecturer at KIU Ishaka who owns a printery business from where he has been aiding counterfeiting of veterinary drugs. During this operation, we found Mr. Agaba with several fake academic documents for both animal & human health practitioners," Rwamwiri said.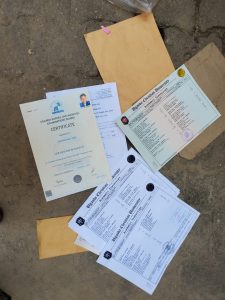 "A graphic design of Bimectin Plus is one of the materials recovered from Agaba Jude's printery in Ishaka Bushenyi from where he has being aiding counterfeiting of vet drugs. The original product is Manufactured in Dublin, Ireland," He noted.
Rwamwiri said Agaba has been, formulating and printing fake practicing certificates and licenses and other documents which he has been selling to unqualified persons who sell counterfeit drugs.
The arrest comes barely a month after, Philly Kikawa a licensed and qualified Para-veterinarian was arrested in Mutukula, Kyotera district for perpetually counterfeiting veterinary drugs.
Kikawa was running a drug shop in Mutukula Town Council where he was suspected to be committing the crimes with the aid of other accomplices who he says are on the run.'s
He was found in possession of counterfeited Alberfas 10% (a dewormer) manufactured by Norbrook Uganda Limited, Supona Extra, an acaricide brand marketed by Etam Uganda Limited, and a purported acaricide labeled Paranex whose ingredients are yet to be established.
Rwamwiri, says NDA has been engaging all stakeholders including farmers, Drug outlet owners and veterinary practitioners on compliancy with the drug safety guidelines and practices.
"After these countrywide sensitization engagements, we have now embarked on conducting targeted crack down operations against illegalities including counterfeiting and non-compliance. Selfish characters like Jude who are risking the lives of Ugandans and their animals operate within our neighbourhoods," he said.