First Lady, Mrs Janet Kataaha Museveni, on behalf of the Ugandan Government, and the Ministry of Education and Sports, has extended heartfelt condolences to the families, students, staff of Lhubiriha Secondary School, and the broader community affected by the Friday tragedy.
"Today, our nation mourns the devastating terrorist attack on Mpondwe Lhubiriha Secondary School in Kasese District near the DRC border, claiming the lives of 37 children, with another five hospitalized. Initially, 25 deaths were reported, but the count tragically increased," she said.
The assailants first shot dead the guard at the gate before setting two dormitories with learners inside on fire, according to Uganda People's Defence Forces (UPDF).
UPDF said Saturday afternoon that 41 bodies (37 students, three community members and a school guard) were recovered.
There were 62 students at school when the attack happened. At least eight of the students were found alive but in critical condition. Six others were abducted.
Last Sunday night, ADF rebels attacked Domena Village in Kasindi, which is a few kilometres from Uganda's border town of Mpondwe, killing several people.
Dr John Chrysostom Muyingo, Minister for Higher Education, accompanied by the Permanent Secretary, Ministry of Education and Sports, and the Commissioner for Private Schools, visited the school for ground assessing the situation.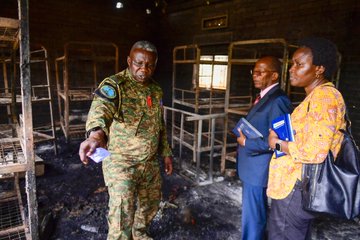 "With the President's assistance, we're providing support for the bereaved families during this trying time. We call upon everyone to offer prayers for the affected families and community, while also urging vigilance to uphold the safety of our children in schools," Janet noted.
She added: "I remain confident that the UPDF, with divine guidance, will ensure those responsible face justice."
This is her full statement:
Fellow Ugandans, the media fraternity, Good afternoon to you all.
Today, I am compelled to communicate to you a message that is very sad for our country because this morning we were informed that a terrorist group attacked a secondary school in Mpondwe near the border with DRC. The School is a Boarding School – it is called Lhubiriha Secondary School. It is in a parish called Nyabuganddo, and sometimes they call this Nyabugando Secondary School in Karandi Sub County, Kasese District.
This terrorist group killed 37 children altogether. The information is still coming in and is still scanty but that is the number we have.
 Apparently, they did use guns to kill these children. There are two dormitories. The girls' dormitory, and the boys. The boys' dormitory had been locked so that these terrorists couldn't enter, so they threw in a bomb. They threw in a petrol bomb.  
The girls on the other hand opened the door and tried to run out and this evil group got them and killed them with pangas. They did not shoot. With the girls, they killed them with pangas. The 17 children who were burnt in the dormitory are not easily recognized. The bodies were taken to the mortuary. The 20 girls were killed with pangas.
This school is a private school. Apparently, it was built by an NGO, led by somebody called Peter Hunter. This Peter Hunter is a Canadian. He works both in DRC and Uganda. Recently, apparently, his group sent in auditors to his school to audit the finances that they send to the school. The auditors spent some two days at that school auditing the books of the school, and they finished on Thursday and left the school on Thursday and the children were killed on Friday. That is not to say that we relate these auditors being there, but those are the facts we have.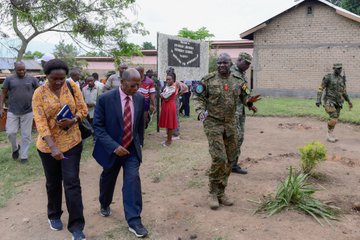 "There is also another point that came up- that this school has been, there have been groups in Kasese who wanted to take it over but because an NGO built the school, there has been that conflict between those groups that wanted to take over the school and the NGO which actually built the school, so there was that background also. Those are facts that are not yet very clear but that is the information that is coming in, and that we have received so far.
I wanted to go this morning myself to be there to see and make some on-spot assessment to know exactly what really happened but I was reminded that we are still in quarantine here so I couldn't go. Therefore, I asked my colleague Hon Muyingo who quickly flew to that area, to the School with the Permanent Secretary for the Ministry of Education and the Commissioner uncharged of private schools to get to the grassroots and really find out so that we can know exactly what happened.
 The president also helped us with some support for the affected families to help to arrange the funerals and help them to manage this very difficult time. When Hon. Muyingo comes back we will get more information obviously and we will pass it on to the public. For now, however, the government through the security agencies is trying to follow up on what actually happened and it is on top of the situation. We believe that justice will prevail.
So on behalf of the Government of Uganda, the Ministry of Education and Sports and my own behalf, I express our sincere condolences and deepest sympathies to the bereaved families, the students and the staff of this school on this terrible tragedy.
And apparently, there is another school in the area. Nyabughando Baptists Secondary School, it is a larger School but that one is safe. Nothing happened to that one and it shouldn't be confused with this other one.
This school, the one we are talking about had 63 students only in the school, and now 37 have been killed. This other school, Nyabughando Baptists Secondary School was a larger school, and by  God's grace it was safe, it had some 700 students but it was safe, and nothing happened so it shouldn't be mixed up with this other school that had a problem-Lhubiriha.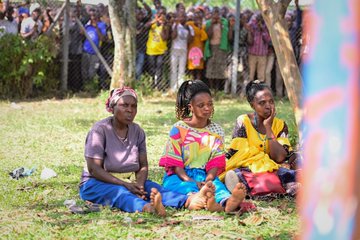 There is an impression that perhaps the terrorist group may have been used by the people who were fighting to take over the school to do what they have done. Still, that information will come out at a later stage because the government is going to have to find out and get the actual information. For now, the government is in charge, the security agencies are trying to follow up and we will get all the information.
So I really want to appeal to all people of goodwill and to the country to pray for those families and the community in the area.
Parents across the country please do not panic, our children are safe and they will remain safe. There are evil and they are trying to harm our children but they will not always manage.
I am confident that the God we serve who sees all things will lead the UPDF force to track down these people and they will pay for what they have done. I have no doubt in my mind that they will be found and they will pay for what they have done. But for now, I appeal to all of us to stay calm and hold our hands together and pray for this community in Kasese district so that God can empower them to go through this very difficult time. 
And it is a difficult time for all of us as Ugandans but God is not dead and he will lead our defence forces and they will track down these evil people and they will pay for what they have done.