On Saturday, May 7, 2022, the Ugandan embassy in Washington DC showcased a 34-foot work of art, a show-stopping model warship built entirely from wire by Ronald Nnam, a Ugandan artist.
Nnam, like many Ugandan kids, grew up making his own wire toy push cars and bicycles, the knowledge he applied to build the battleship mimicking a Russian battlecruiser Pyotr Velikiy, the fourth Kirov-class battlecruiser of the Russian Navy.
The real ship was initially named Yuri Andropov for Yuri Andropov, the former General Secretary of the Communist Party, but the ship's name was changed after the fall of the Soviet Union.
SoftPower News editor, Rogers Atukunda, caught up with Nnam about the project, that wowed Washington, and below are the excerpts.
So, who is Ronald Nnam?
I was born in Lira district, now Alebtong to Ambassador Alfred Nnam and Mrs. Ruth Nnam. I am the fourth of five children.
The name Nnam confused me a bit. What does it mean?
Ahahaha, of course, Okello or Otim would sound more in tune but Nnam with double 'n' is a northerner's name. It means a waterbody.
What is your education level?
I'm currently pursuing research, design and manufacturing interests in Aircraft, Naval, Robotics, Ballistics and Artificial intelligence, Space and Planetary Motion.
I went to Mbuya Nursery School for Kindergarten, then St. Kizito Primary School Bugolobi from P1-P2 and P3-P5, I was at Kiswa Primary School.
In P6, I transferred to Kalinabiri Primary School and sat my Primary Leaving Examinations at Reverend John Foundation School.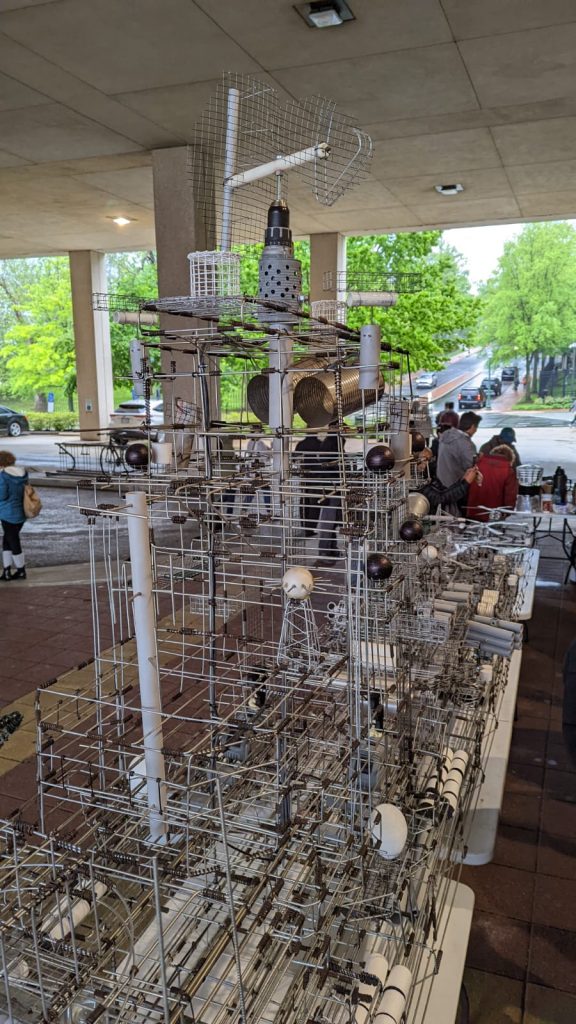 I then joined St Mary's College Kisubi for O Level and completed my A Level at Bishop Cipriano Kihangire.
I later joined Makerere University Business School where I graduated with a Bachelor of Business Administration (Finance Major).
I have Computer Certifications from Maryland, United States.
How did you get to DC and what do you do currently?
My dad was on a mission to the United States at the time of my graduation from the Business School in 2013. So, he asked me if I wanted to visit the States. It was an opportunity I couldn't turn down.
He uses batteries to connect to small motors, simulated sensors and satellite dishes, all made from recycled materials. #STEMMeetsArt pic.twitter.com/xwFfTXpZRB

— Rogers Atukunda (@rarrigz) May 8, 2022
I engage with the Embassy from time to time. They are a very wonderful group of people.
Tell me about your project. What is the name of the ship?
The battlecruiser on display is actually a 3D Model based on the Nuclear-Powered Russian Kirov Class Heavy Missile Cruiser (Pyotr Velikiy) or Peter The Great. The flagship of the Russian Northern Fleet, it is currently the world's biggest and most powerful surface combatant in active service.
It displaces 28,000 tonnes at full capacity. It is 252m (827ft) long, with a beam of 28.5m (94ft) and a draft of 9.1m (30 ft).
It's mind-boggling to imagine that considering how imposing this display model is, the real-life monster is 24 times the length.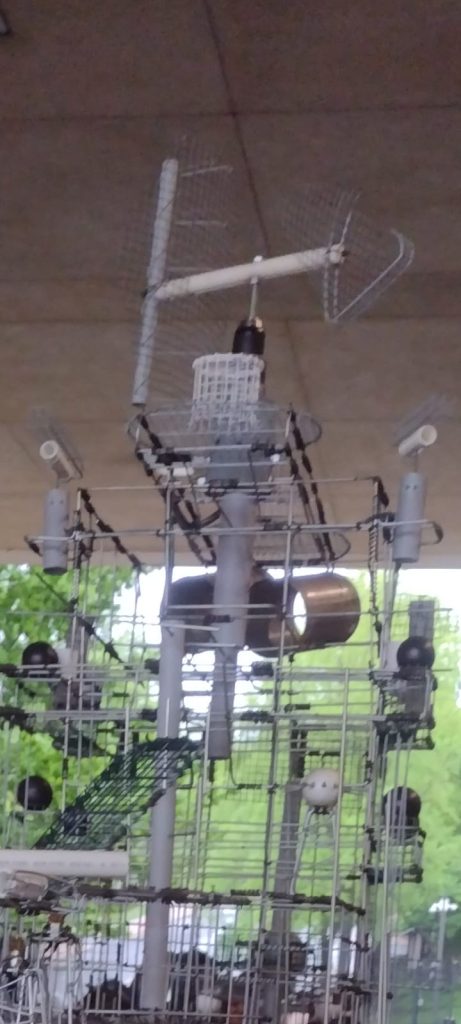 Why did you choose to make a ship?
Very good question! The original inspiration was to create the largest military supersonic variable-sweep wing heavy strategic bomber but my biggest limitation was not complexity, it was space as is always the case when building airplanes. They always grow bigger than the hangers that are meant to house them. Just ask Boeing or Antonov and I was no exception, unfortunately. So, I settled for the ship. That is what my space could accommodate.
What materials did you use and how did you get them?
I used Mason Ladder wires commonly used in American block construction, PVC pipes, styrofoam balls, punched metal tubes, metal rods, metal mesh, brushless motors, batteries, ropes, and chains.
There are two famous home improvement/hardware stores in the States from where I purchased these items. One of them is The Home Depot and another is Lowes. I'm very grateful that these stores exist because had it not been for them, the cost of building such a project would have been quite enormous.
Other retailers are; Joan's Fabrics in Wheaton City for Styrofoam balls, Michaels Arts store in Silver Spring City. I also quite often purchase from Amazon, Ebay, and other online retailers. I tend to also keep empty containers in storage.
How does the ship function? Tell me about its parts and how they work.
There are 10 simulated active radars that are driven by a combination of brushed and a new generation of Brushless Motors, all powered by rechargeable batteries. The other three radars were built to operate on stationery mode.
How about the choppers? How do they connect with the ship?
Initially, Pyotr Velikiy was meant to operate as still life art but midway through the project, I thought about incorporating some situation awareness into it through simulated radars and helicopters to make it quite relatable and more fun and engaging. She operates three Kamov Ka-27 anti-submarine and electronic warfare helicopters and two Kamov Ka-29 naval assault gunships as part of the operational suite.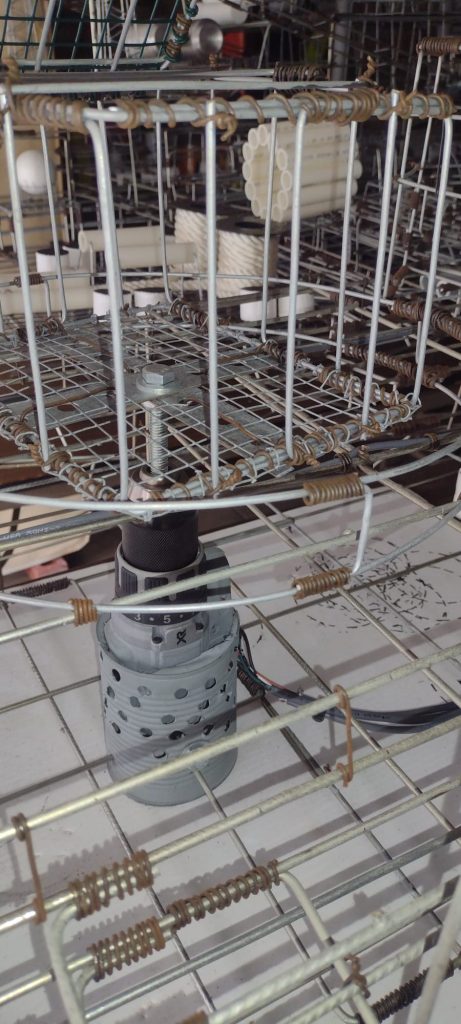 How long did it take to make it and why did you never give up?
It's taken me five years of on and off working. While this project was going on, I had to report to work to sustain a basic living as this was not an income source at any one point. I've rather had to sink a tremendous amount of time, research, creativity and resources into it. Some materials, especially the mason ladders, would go out of stock at the hardware stores for an extended number of months thereby halting any work on the project.
One of the biggest tragedies in life is what dies in a man while he lives. Every successful person you see anywhere in this world is where they are because they made a decision not to give up.
What was the goal of this ship?
I wanted to use the ship to showcase Ugandan Art in the United States and to inspire artists to new ways of thinking about art. I'm optimistic that inspiring artists to explore and create new content like this and better will help many overcome the financial struggles and stereotypes many of them face. Building this ship has also helped me fine-tune my skills for the project.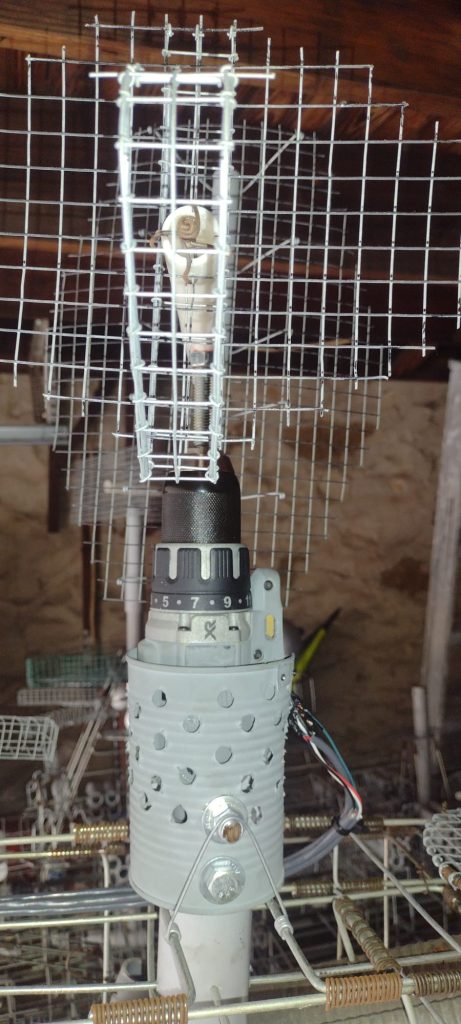 How did you get the chance to exhibit it? Tell me about your experience during the exhibition.
I must give tremendous thanks to the Minister-Counsellor at the Embassy of the Republic of Uganda in Washington DC, Mrs. Margaret Awino Kafeero. Together, we have been exploring ways to promote Ugandan Culture through Picture Art, Textiles, Literature, Ankole Cowhorn products, Children's Storybooks, and Cartoons. We've also hosted events at the Embassy to showcase Uganda's uniqueness to the wider American public. Many thanks to Mrs. Anne Babinaga, in charge of Commercial Diplomacy and Tourism at the Embassy of the Republic of Uganda, and the entire diplomatic staff who have been very supportive of the idea. It was easy to showcase the project.
How did it feel and what kind of feedback did you get from the viewers?
Ahahah, very relieved but just everyday normal. It was in my apartment for five years but seeing it out there complete and functioning was very rewarding, to say the least. It is a very heavy and complex ship that was delivered by truck and had to be assembled on stage.
It drew so much attention at the event because of its sheer length and size let alone its simulated radars, helicopters, and torpedo carriage. The feedback was very positive and I made new friends and contacts instantly. I was often asked if I made it and how long it took. I can only thank God for this project.
Do you plan on commercializing this innovation?
Yes, I will commercialize it through exhibitions and hires. I don't intend to sell it.
What are the opportunities you see in the future and what challenges do you face?
There is a tremendous market for new types and forms of Art that are very relatable and stir the imagination. As projects grow in sheer size and capabilities, so will the need for space.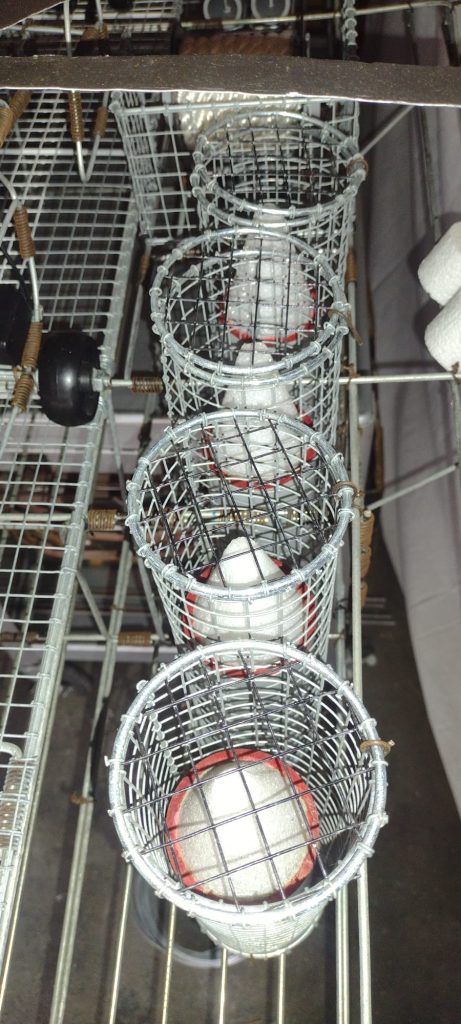 So, what next after the ship?
It's good to have suspense but if operational space and funding are available, it is going to be one of the three; a Heavy Lift Cargo Helicopter, a Helicopter Gunship or a Strategic Fighter Bomber, probably finished in time for the next event. One thing I must say is that whatever I go with will be something the likes of which has never been seen.
Do you need any help from the government or anyone? What kind of help?
Help from the Government or someone with the means is welcome. If I can acquire a large floor space and consistent funding, that does open so many possibilities for what projects can be made. With a collection of such projects, the tourism potential and positive publicity for Uganda are enormous.
What are your future goals? Where do you want to be in five years?
To create more projects enough to give tremendous positive publicity to Uganda through new forms of Art. I'm already where I want to be in five years, building projects.
Ronald Nnam can be reached on Tel: +1 240 701 9950 or  email: nnamronald7@gmail.com