First son and Commander of UPDF Land Forces, Lt Gen Muhoozi Kainerugaba, has said he has never dreamt of becoming a president.
"A lot of people keep asking me if I want to be President?" Muhoozi said Saturday.
He clarified: "I have never dreamed about it!"
When Muhoozi turned his 48th birthday celebrations in April into a national event, many speculated that he was going public about his presidential ambitions.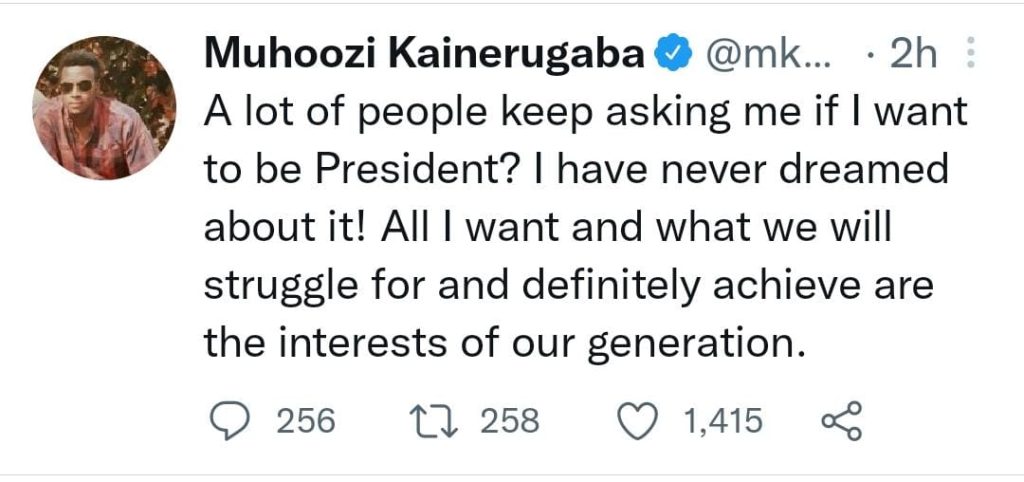 "When Team MK wins power in this country, which we will, our first action will be to increase the sports budget," he tweeted, adding, "Team MK will announce our political programme soon."
A month before, on March 8, Gen Muhoozi informally announced his retirement from the army on Twitter in what many thought was a move to launch his political career.
"After 28 years of service in my glorious military, the greatest military in the world, I am happy to announce my retirement," he said but quickly clarified that he would be "leaving the army after eight years".
At the beginning of May, Muhoozi lashed at his enemies who he accused of abusing him for so long.
"Now they can't believe we have taken over the county. We will not stop until we are in complete control."
He then challenged his followers to gauge how many wanted him to stand for president in 2026 general elections.
"All those who want me to stand in 20226 retweet, all those who don't like."
He later said he was only interested in making Uganda better.
"We are only interested in making Uganda the best country possible. And we will do it."
In a series of tweets that have since disappeared from his Twitter handle, Muhoozi said yesterday that he has only one option.
"We shall take over the whole of Uganda in a peaceful election. We represent the people of Uganda."

On the same day, he said in another tweet: "All I want and what we will struggle for and definitely achieve are the interests of our generation."
On Thursday, May 26, Muhoozi tweeted: "There is no path in my life that leads me to abandoning my generation and their hopes and dreams! Just as we made a big difference in the military, under the guidance of the Supreme Leader, @KagutaMuseveni, I believe we are the generation that will make Uganda great!"
To his followers, the Presidential Advisor on Special Operations said: "As long as I am your Chief, I will never condemn you my lovely people. They condemned us for many things! They said we were hopeless! But Jesus Christ gave us hope! We are tired of the condemnations from many! If Jesus Christ does not condemn us we are free!"