The Prime Minister of Uganda, Rt Hon. Robinah Nabbanja, has challenged stakeholder to save the country from an embarrassment of hunger despite the favourable climatic conditions.
Nabbanja was Sunday afternoon speaking as chief guest at this year's world food day held at NARO -Naccri Namulonge in Wakiso district.
Nabbanja said reports of hunger should not arise in Uganda, a country that prides itself as gifted by nature, with fertile soils, abundant water and good weather.
"The food insecurity in some parts of this country is a call for serious action, we should all ask what are our scientists in the Ministry of Agriculture, private sector, and everyone are not doing right, what the leadership at all levels, from the politicians, religious and cultural leaders are not doing right," she said.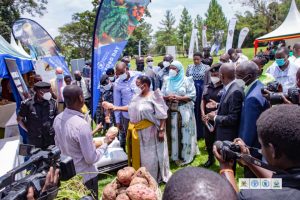 She called for practical interventions by stakeholders to enable the population live better lives.
Frank Tumwebaze the Minister for Agriculture noted that the sector has continued to register significant progress contributing 26.2% of National GDP, 54% of exports and employing over 70% of Uganda's population.
Tumwebaze noted that the ministry's focus is to leave no one behind in ensuring that the country produces enough food without compromising the environment..
He added that "increasing food production takes a two pronged approach: first, is Increasing production horizontally. This involves opening and planting more of the available arable Land, enabled by appropriate mechanisation technologies. Second is Increasing production vertically through uptake of fertiliser usage and adoption of highly resilient seed."
Tumwebaze noted that building resilient seed systems involves investment in Agricultural research, saying the government of Uganda will support the National Agriculture Research Organisation (NARO) and NAGRIC to build resilient seed required to support climate smart agriculture.
He said horizontal expansion increases production quantitavely by putting more unutilised arable land to use, while vertical production targets increasing productivity per unit of production, qualitatively through adoption of precision agriculture methods ( fertiliser, irrigation etc).
Marcus Prior the World Food Program (WFP) acting Country Director in Uganda noted, "If we are to Leave No One Behind we must also leave no stone unturned in ensuring sustainable agriculture and food for all in Uganda"
Antonio Querido, the FAO Uganda Country Representative, called for action to transform agri-food systems for inclusive economic growth, tackling inequalities, increasing resilience and achieving sustainable development.
This year's World Food Day, was marked under the theme "Leave No One Behind. Better Production, Better Nutrition, a Better Environment and a Better Life."
The function was graced by the Minister of Kampala, Hajat Minsa Kabanda, a cross section of Partners, exhibitors, religious, Opinion and political leaders.