Dr Susan Nabadda Ndidde, the Executive Director of the National Public Health Laboratory, has urged hospitals to improve and strengthen their laboratory services.
Dr Nabadda noted that laboratory services are essential for the delivery of quality health care and should be made available to all the people in Uganda.
She noted that the poor laboratory services subject patients to inappropriate or useless tests thus wastage of scarce resources through high out-of-pocket and government expenditures.
"Wrong diagnosis means wrong treatment or no treatment will be given and the patient's condition may actually become worse with possible loss of life."
"On the other hand, a well-functioning medical laboratory service provides accurate diagnosis and ensures that patients are treated in a timely manner on the basis of a correct diagnosis," she said.
"This promotes better management of diseases, and faster recovery."
She said that the efforts to strengthen lab services in Uganda started in the year 2009.
The ministry developed and published the Uganda National Health Laboratory Services Policy.
The policy aims to provide a framework for ensuring that the laboratory services in Uganda are strengthened at each level of healthcare delivery.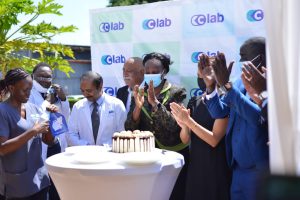 She noted that the current medical laboratory testing needs are fast outgrowing the capacity of the Health ministry to offer these services to the entire population, adding that, it is for this reason that the ministry is fully supporting the establishment and running of state-of-the-art-labs operated professionally by the other sectors.
Dr Nabbada made the remarks at the launch of the C-Labs' new laboratory services at IHK and IMC clinics countrywide.
She revealed that IHK has been an important player in the health sector and with the launch of the internal laboratory services, they understand that C-lab is going to provide an international platform with pathologists from Mauritius, France and other European countries to occasionally consult with and support the specialists here.
In his speech, the International Medical Group CEO, Sukhmeet Sandhu, said: "As the leading provider of private medical services, it is important that IMG Institutions continue to improve and evolve to meet the needs of our patients."
"Our team is passionate and extremely driven about delivering quality and timely services. The laboratory team consists of highly experienced pathologists, medical technologists, medical technicians, lab assistants, microbiologists, and other specialists, all working collaboratively."
Meanwhile, Joel Oron the IHK, the General Manager, explained that their focus is on continuous improvement, quality, innovation and client experience.
C-labs, is an Ultra-Modern Laboratory facility offering services like Tumor Makers, Hormonal Tests, Vitamins, Cardiac Makers, Real-time-PCR COVID-19, Immune-histochemistry (IHC), Hereditary Cancer Panels, Routine Tests, Viral Markers, Sexual Health Screen tests, Pregnancy testing and semen Analysis, etc.