The Uganda Revenue Authority (URA) Tax Payer Appreciation Week has opened on Wednesday with an aim to bring together all government agencies to account to the public.
The three day event at Kololo Independence Grounds will see different Ministries, Agencies and Department of government interact with ordinary Ugandans as well as exhibit their services.
Held annually, this years Tax Payers' Week is themed "Appreciating Uganda's Taxpayer: The Nexus between Public Accounting and Tax Compliance" and at least 150 exhibitors are taking part.
The opening ceremony was presided over by Mary Karoro Okurut, the Minister in Charge of General Duties representing President Yoweri Museveni. Minister of Finance, Matia Kasaija, URA Commissioner General Doris Akol, UPDF Deputy Chief of Defence Forces Lt Gen Wilson Mbadi, the Joint Chief of Staff of the UPDF Maj Gen Joseph Musanyufu and UPDF Spokesperson Brig Richard Kalemire also graced the event.
"We want to appreciate tax payers by showing them the link between public accountability and tax compliance. This week, government agencies will set up camp to showcase what taxes of Ugandans are doing to develop Uganda," Doris Akol said.
Roads agency UNRA, the Ministry of Water and Environment as well as Kampala Capital City Authority accounted on the various projects that they have implemented using domestic revenue and the impact that this has created.
Eng. Dominic Kavutse from the Commissioner for Urban and Sewerage Services in the Ministry of Water said that there has been tremendous developments made in water supply in both rural and urban areas with up to 110,000 drilled boreholes, 40,000 springs and 180 gravity flow schemes in the last 18 years.
"Water supply has been scaled up to 68% in rural areas from 25% in 1999 while in urban areas, it has gone up from 30% to 77% over the same period. This has had direct impact by improving education, health among other spheres of life," he told journalists.
Urban water supply has been boosted from 55,000 piped water home connections to 620,000 connections today.
In the area of water for production, government has constructed 10 major irrigation schemes and large valley dams for water collection. It has also procured and distributed equipment to districts for construction of private water dams.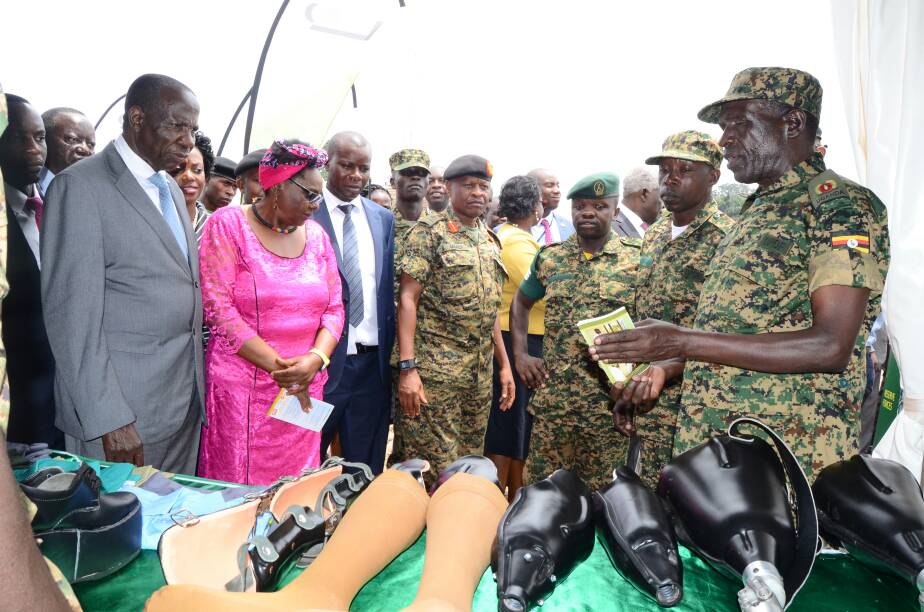 Eng. Kavutse revealed that currently, government is constructing a new water treatment plant at Katosi landing site which will double the current water supply to 324 million litres per day. It will supply Mukono and Kampala.
On the part of KCCA, Sam Serunkuma the Deputy Executive Director said that using taxes, about 300 kilometers within different parts of Kampala including Jinja Road, Kisasi Road and Kawempe have been paved.
"We installed traffic control lights in Bukoto, Wandegeya and Fairway junction and we have injected Ush 7 billion in solar street lights," he said.
Other implemented projects include renovation of 15 schools funding a total of 250 youth groups with start up capital and improving 250 kilometers of drainage.
In the sector of transport, UNRA highlighted the achievements that have been registered in upgrading of roads as well as maintenance.
Several road projects have been funded by government of Uganda money including; Gulu, Mpigi – Kanoni – Sembabule, Busita – Busia, Soroti – Katakwi, Nakapiripiriti – Moroto, according to Eng. Isaac Wani the Director of Network Planning and Engineering at UNRA.
"Roads are a public good and government has invested heavily in infrastructure. A total of 200 kilometres have been paved using tax payers money. This will help to ease doing business," Eng. Wani stated.
In a bid to address the issue of shoddy works which cost government, he said that UNRA has terminated some contracts like the rehabilitation of Nakalama – Tirinyi Road in addition to many other maintenance contracts. Some contractors have been submitted to PPDA for blacklisting.