Ntungamo Municipality MP, Gerald Karuhanga has revealed that his life is under serious threat after receiving threatening messages from unknown people.
Speaking to the media at Parliament, the legislator noted that he received the messages on his phone which he saw as he reached home at 11pm on Tuesday.
"Yesterday when I reached home at around 11pm, I decided to check my phone. I then discovered that I had two sets of messages. The first was saying, "Musaazi afude, gwe adako" (Musaazi died you are next) the sender re-sent the same message with another number," Karuhanga said.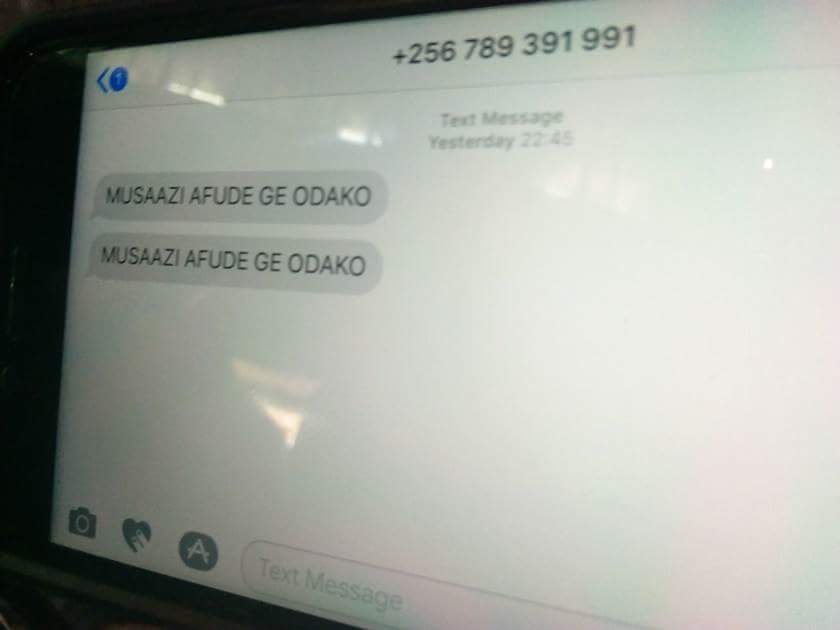 Dr. Moses Kizza Musaazi a Makerere University legendary practical researcher and innovator died mysteriously recently.
The Ntungamo municipality legislator said that in the morning, he called the number that had sent him the message and a person, who picked the phone said he had no idea and that he was in Mukono.
"He [owner of number] told me that he had no idea about what I was talking about. He said that he has two MTN lines and he uses one for his mobile business and the other line used as his private line."
Karuhanga says he then rang to MTN over the matter and was referred to MTN forensics in Kololo. In Kololo, a quick search was done to establish whether the SMS text sent to the MP was generated by a computer or from a phone numbers.
"They indeed found out that these two numbers were the same lines that were used to send the message. I was advised to go to Police and I came to Parliament Police where i filed a case concerning the death threats."
Karuhanga noted that in the last few months, several of his colleagues have been raising concerns over death threats, some of whom have been fellow MPs and other members of the public including the late Muhammad Kirumira.
"This can't be taken as mere threats especially when the sender denied but MTN confirmed that he had sent the messages," he told the press.
He added that when he tried to send Mobile Money to the number that sent him the death threats, the number displayed 'Simon Balibaawo' as the owner.
"We are going to use both private and Police investigations until we get to the bottom of the matter. I don't think I need to get security from the State, if there is need, I will acquire private security," he said.
Last week, Bukonzo county MP, William Nzoghu told Parliament that his life is under threat claiming he has been trailed by unknown people who are threatening him to death.
A few weeks ago, Mbale Woman MP, Connie Galiwango Nakayenze also informed Parliament that she was being trailed in a similar manner.
Nakayenze told Parliament last week that unidentified people have been trailing her in and around Kampala using a particular vehicle, but she wasn't in position to take note of the number plate of the vehicle following her around.
The Speaker of Parliament, Rebecca Kadaga recently said that there are provisions for all MPs who feel endangered to be provided with additional security.
In June of this year, former Arua municipality legislator, Ibrahim Abiriga was brutally shot dead by assassins near Kampala as he returned home.